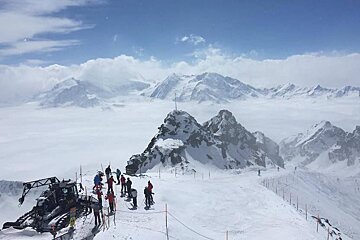 Eco-friendly and sustainable skiing in Verbier
Discover how to minimise your trip's environmental impact
Whether you're in the mountains for a holiday or here all season, if you love the mountain environment some simple changes to your daily routine will make a difference to your impact.
Whilst we're not suggesting you sell your car and move into a snow hole, we've compiled some information you might find interesting and have listed ways you can help the environment (and maybe even your bank balance).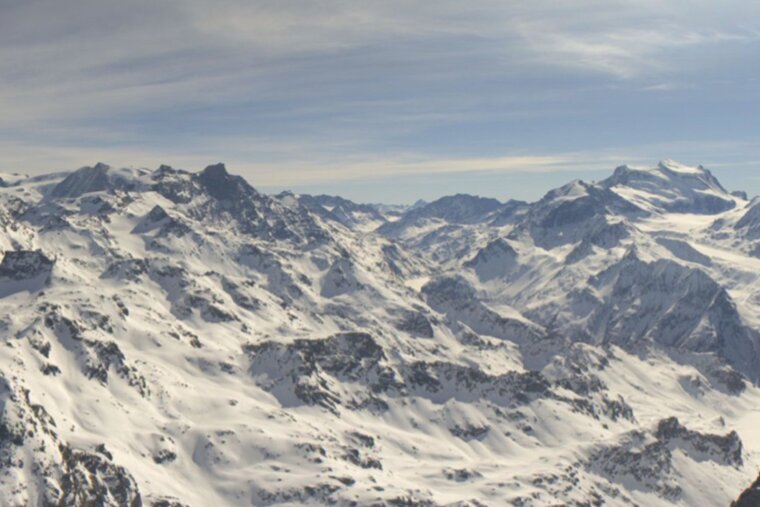 Impact of skiing on the environment
The huge expansion of ski resorts since the 1970s has, according to environmentalists, had numerous effects on mountain water levels of lakes and streams; damaged mountain wildlife through the destruction of habitat, noise and pollution in addition to affecting annual climate conditions.
The increasing popularity of skiing and the simultaneous development of the ski industry has created a demand for larger accommodation blocks to be built in the popular resorts. But with limited space for new apartment buildings and chalets on the valley floor, the demand to fulfil accommodation requirements has forced an erosion of the surrounding hillsides.
In addition, to keep up with the tourist demand for the sport, ski resorts today are under pressure to build more lifts with a faster and higher skier capacity. This improvement in resort facilities ultimately creates a 'catch 22' situation, as the number of individuals visiting the resort increases there is pressure to improve transport links to these resorts and so the cycle continues.
The indirect cost of the increase in human wealth and enjoyment is to the detriment of the mountain and its associated environmental conditions. Mountains and glaciers are highly sensitive to the extreme changes that we are currently enforcing upon them. The repeated damage and environmental changes being inflicted is difficult, and in some instances, impossible to repair.
Environmental damage caused by climate change and global warming is being seen in erratic climate patterns across the Alps, with predictions including more rain and melting glaciers that will bring erosion and floods on an unprecedented scale. Already, the cost to the alpine environment has been seen in recent years by poor snowfall records, receding glaciers and unusual weather patterns. Pistehors.com has written that "Since 2012 France has seen a series of warm winters with temperatures 1-2ºC above the 30 year average (1981-2000)". Additionally, they noted that glacial melt is accelerating as the planet is "losing 31% more ice and snow per year than 15 years ago" and that "new climate change models from prestigious French CNRS, CEA and Meteo France forecast temperatures rising by 7ºC by the end of the century with summer long heatwaves the norm by mid-century...In Chamonix, the glaciers Argentière and the Mer de Glace could disappear pre-2080 if current condition patterns continue".
As pressure mounts on the ski companies to build higher into the mountains, sensitive high mountainous environments then become ultimately affected. The increases in global temperatures will have a serious implication for the many ski resorts located at lower altitudes. It's not just as simple as going higher to get more snow. The future for tourism in the mountains for many of these low-lying villages is trail running, mountain biking/e-mountain biking, ski touring, and nordic walking. French mountain brand Rossignol shares this vision. A leading voice in the winter sports and mountain equipment market, it "feels a responsibility to protecting nature and the mountains", and has opened a multi-activity resort in France as a 'shop window' of sorts to show how to make the conversion from a 'downhill skiing only' offer. To a degree this it is showcasing a return to winter tourism before ski lifts.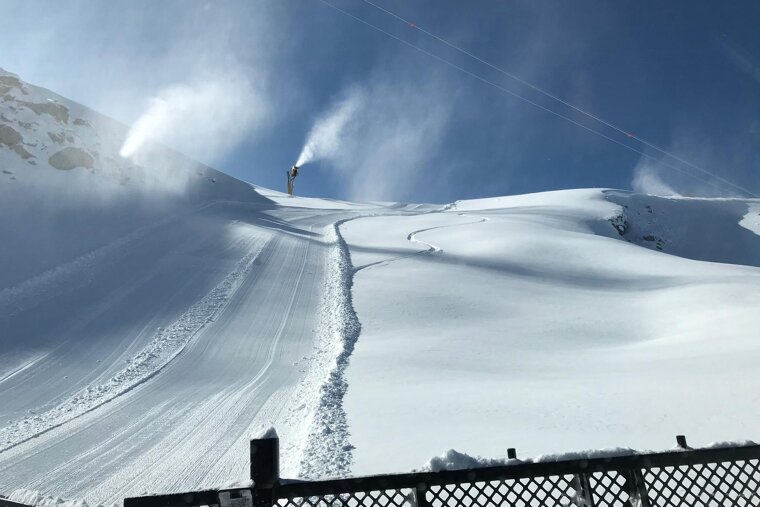 Snow cannons and the environment
As European resorts experience a decreased precipitation (rainfall), some resorts are having to stringently control their water supply in order to conserve supplies. After the unseasonably warm temperatures and lack of early season snow during recent winters, global warming has been at the forefront of winter sports enthusiasts' minds. To counter this very real climate change, ski resorts are turning to artificial snow manufacture to protect the survival of mountain communities and the entire winter sports industry.
Snow cannons are becoming increasingly commonplace in France, today 15% of French ski areas are covered by the machines and they are no longer confined to low lying areas. Tignes has equipped the bottom of the runs on the Grande Motte glacier with snow making equipment at 3,000m and Val d'Isère have done the same on the Glacier du Pisaillas to preserve summer skiing. Millions of euros are invested in artificial snow manufacture every year, but the investment comes at a high cost to the environment.
It seems illogical to combat global warning, widely agreed to be created by the burning of fossil fuels, with yet more energy outlay. In some resorts, such as Alpe d'Huez, snow making now consumes more power over an average season than the entire lift system. Furthermore, the machines constitute a visual blot on the landscape and contribute hugely to noise pollution. A single snow cannon emits between 60-80 decibels, the equivalent of heavy traffic, which disturbs mountain wildlife.
So how do they work? Snow cannons spray water at great pressure into sufficiently cold air which then falls as snow on the ground. However, any long-term environmental impact of this at present is uncertain. We do know that artificial snow is much denser than natural snow and it takes a metre cubed of water to make two metres cubed of snow. This artificially created snow has an effect on the vegetation and melts much later than natural snow.
The manufacture of artificial snow is costly both in terms of energy and quantities of water required. It is estimated that snow making in France uses as much water as a town with 170,000 inhabitants. Everyone knows that water freezes at 0°C but the rainwater found in reservoirs for snow making has to be cooled to around -7ºC to -9ºC before it will freeze and make snow. If it is necessary to make snow at warmer temperatures, agents such as Snomax™ are added. This is a protein which provides a nucleate for ice crystals enabling freezing at temperatures around -3ºC. York International says that Snomax™ is completely safe but extensive studies have not been carried out to determine the overall effects of such additives on the environment. Despite the construction of reservoirs, snow making uses vast quantities of water with consequences on a region's water courses and aquatic wildlife. A case in point would be this summer in les Deux Alpes when Mountain Wilderness France, an environmental group, were furious to discover the lift company were ice making on the summer ski area. The glacier de Mont Lans is losing around 10cm depth a day and the lift company was collecting the melt water and pumping it to 3,150m where it is colder and their 'snow magic' machine transforms the water into ice. The group is concerned that they're taking melt water that should flow into the rivers, especially important during times of drought like the summer of 2022, and unnecessarily using power at a time when we are all being asked to check our energy consumption. The summer skiing was actually only able to open for a few weeks anyway because of high temperatures and drought conditions.
More worrying is the natural erosion caused by the increase in melt water which runs back down the mountain in the spring. There is also a suggestion that chemical additives used in production affect the natural vegetation. As melt water comes off the slopes, chemicals used in the production of snow potentially find their way into rivers that supply drinking water for the resort.
An efficient snowmaking system will cost a resort up to 15-25% of it's operating costs. Ski Press World reported in 2005 that low lying resorts such as Les Gets (1,172m) were spending up to €300,000 searching for additional water supplies in an effort to meet an increase in resort demands as expansion continues. In response to their use of snow cannons, Les Gets stressed: 'the manufacture of artificial snow did not have any impact on the water supplies', further commenting that their '...snow cannons principally use water supplies which are unsuitable for drinking water.' Whether the same can be said for all other resorts is a different matter! In Val d'Isère a 36,000 square metre reservoir has been built on the Iseran sector to supply water for the snow cannons that will boost the summer skiing available on the Pissaillas Glacier. The STVI Lift company in Val d'Isère are committed to employing summer skiing possibilities with a minimum of consequences for the surrounding environment and its ecology.
With artificial snow currently seen as the saviour of the industry, giving resort owners the confidence to guarantee skiing, these snowmakers aren't going away anytime soon. But given that the vast majority of cannons require low temperatures to operate, such heavy reliance on them in the face of global warming seems risky. Since the long-term answer to the snow question has yet to be found, the debate between environmentalists and the ski industry looks set to continue well into the future.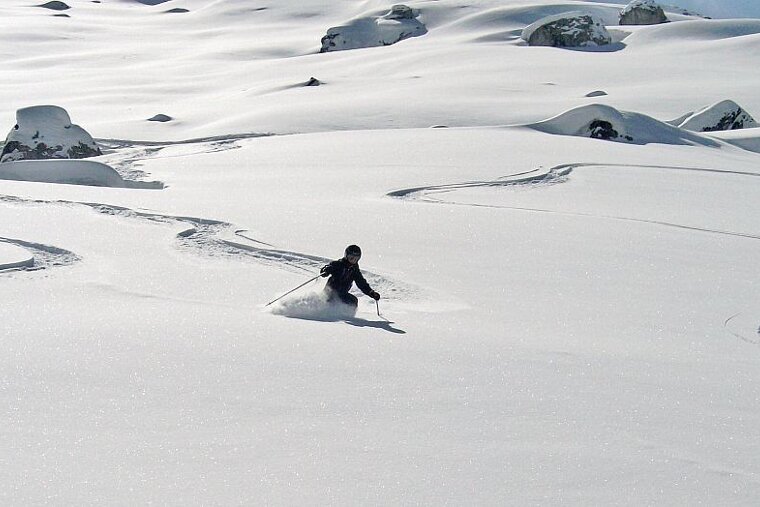 Environmental rating for Verbier
So when you begin looking at how environmentally friendly a ski resort is, we can look to Mountain Riders. A French non-profit organisation working on education and raising awareness surrounding environmental issues, whilst promoting sustainable development in the mountains. They produce annual reports on ski resorts devised from evaluation criteria based on transport, energy, buildings, water, waste, land and social awareness, which is used to establish how "green" the resort is. Some things you can look for are:
Does the resort recycle?
Recycling is already easy and common place in most resorts, and an increasing number of holidays companies will offer to do it for you. Some resorts go further than others when it comes to recycling. In Méribel, for example, it is mandatory. SkiSet are now using an Albertville based business called Tri-Vallées who specialise in recycling used snowboards and skis. The company collects old stock and breaks it down into metal (which can be recycled) and combustible matter which is used in a local cement making factory.
Does the resort use green power?
Lots of resorts have now 'seen the light' regarding green power and are raking in the financial and environmental benefits. Solar panels, hydro-electric plants, wind turbines and biodiesel run machinery are just a few ways in which these resorts are doing that.
Does the resort have a traffic reduction policy?
This is a serious concern across the Alps and one that is already being addressed in many resorts. Several resorts including Chamonix, Méribel and La Plagne provide free shuttle services between different ski areas, and others such as Morzine have created no traffic zones encouraging people to park and ride. Zermatt has banned cars altogether and instead provides an efficient train service up to resort and electric taxis to transport you around the town.

How does the resort manage waste?
Large amounts of holiday makers and visitors obviously bring with them the issue of waste and sewage disposal. The most environmentally forward thinking ski areas are using techniques such as composting to reduce waste from mountain restaurants. In some areas purified wastewater is also being used for snowmaking.
Is the resort addressing the issue of climate change?
Thankfully most resorts have realised that things have to change in order to create a sustainable future for the industry and to tackle the worldwide issue of global warming. Despite this, there is still considerable variation amongst resorts. Tourist information sites should be able to enlighten you on the exact actions such as traffic reducing policies that are being put into place.
Does the resort have a green building policy?
Again, this is an area where some resorts are well ahead of the game and others still have work to do. Several purpose built resorts such as Méribel and Avoriaz have been implementing strict architectural rules since the day they were built. The building codes specify materials and measurements for buildings that are both in keeping with the local environment and scenery. Other rules include things like mandatory construction of underground parking for every new building as well as roof and wall insulation, for energy saving.
Is the resort or business ISO 14001 registered?
Businesses and organisations can apply to become ISO 14001 registered to prove they are adhering to the strict requirements. The ISO 14000 documents are a set of guidelines designed help organisations minimise the negatives effects their activities have on the surrounding environment.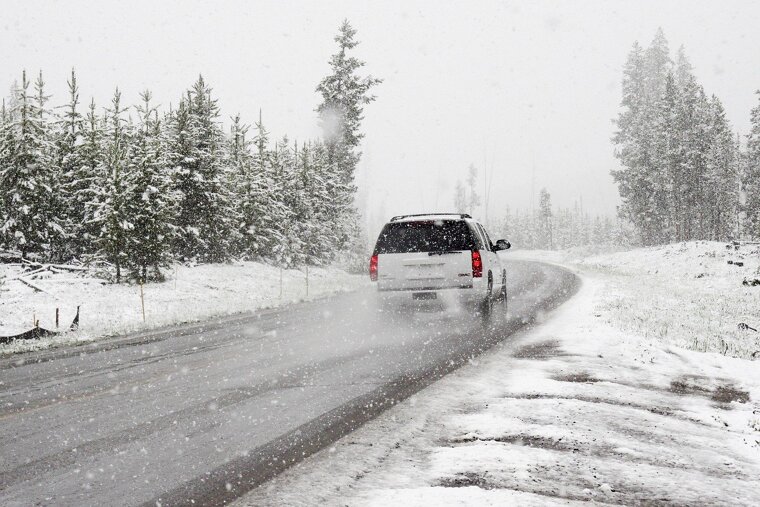 Local business and tour operator green initiatives
It is not only resorts that are investing time and money into improving their green credentials. Many businesses large and small are cashing in on the extra customers this attracts, and before you plan your next trip bear this in mind.
Choose the right company
Many transfer companies and tour operators offset their carbon emissions and adhere to an AITO recognised environmental policy. These companies adhere to strict guidelines to reduce their impact on the environment on which they rely. These guidelines are:
To protect the environment – its flora, fauna and landscapes
To respect local cultures – traditions, religions and built heritage
To benefit local communities – both economically and socially
To conserve natural resources – from office to destination
To minimise pollution – through noise, waste disposal and congestion
If you have a choice, take this into consideration when booking your trip.
Climate Care
More and more companies are starting to do their bit to offset their carbon footprint. The online company Climate Care enables companies to pay to offset their carbon emissions, the money from which is used to finance ongoing projects in the developing world. Projects range from replacing fuel-hungry inefficient technologies with low carbon efficient versions to planting trees. Sharing a transfer rather then hiring your own car will also help to lower your carbon footprint. Look out for the Climate Care logo.
Getting there
Getting yourself to resort is always going to be the major contributor to climate change and flying produces at least three times more CO² per passenger than any other method. Driving or taking the train are both viable alternatives for getting to the Alps that will help reduce your carbon emissions considerably. For trips further afield, Seat61.com can help you plan a trip without using a plane, for holidays to Europe, the US and even New Zealand. If you choose to travel by air don't forget to offset your carbon. You can compensate for the CO2 through donations to associations active in environmental projects, and some airlines provide you with the option of doing this whilst booking. Sharing a transfer from the airport or a bus is a great way to reduce your carbon footprint and cut costs. Do a little web research beforehand and find a transfer company that already offsets their carbon footprint.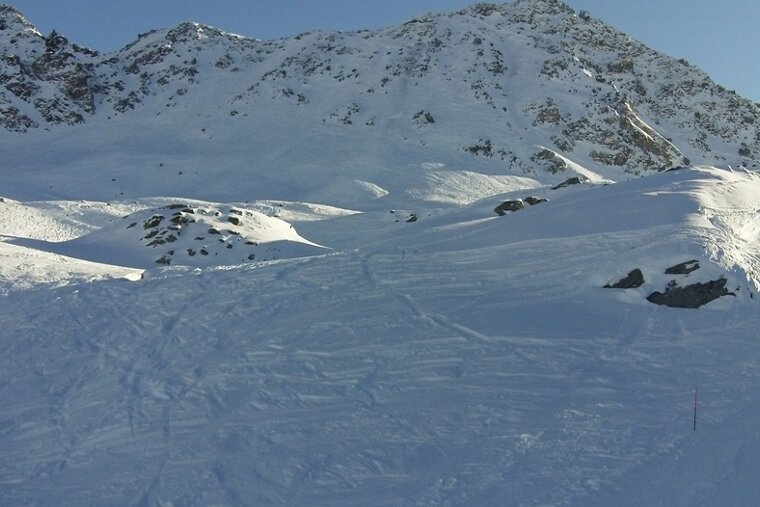 Tips whilst in resort
There are a few ways in which you can help protect the environment whilst on holiday that are effective and easy to implement.
Public Transport
Once in resort, make use of the local public transport system which is generally free with your lift pass or guest card, or tailor your choice of accommodation so you don't have to! However, if you're not in a location where you can ski to your door or take the bus, try to car share whenever you can. There are numerous carpooling apps and it's a great way to reduce your CO2 impact. Shared transfers or buses are kinder to the environment and are often cheaper than taking your own car. If you fancy getting out of resort, the local train network can get you surprisingly far for amazingly little! Check out the SNCF (French trains) or SBB (Swiss trains) websites for destinations, timetables and ticket prices.
Recycle
Most resorts are now fully equipped with handy recycling points. If you're not getting rid of your own rubbish make it easier for whoever is by separating your rubbish into recyclables and non-recyclables. It'll only take you a few minutes and at least you'll know that you've done your bit for the day.
Cigarettes
A cigarette stub may seem harmless enough but Val Thorens recently reported finding up to 30,000 under just one lift! These levels can contaminate water and damage the local wildlife, so think before lighting up. In many resorts you can now buy pocket containers for collecting used butts or be inventive and recycle something, an old Vaseline tin will do the trick.
Carry a water bottle
Bring your food and drink in reusable containers to avoid single-use plastics, bring one reusable bottle per person for your group, fill up before you set out for the day and refill at the mountain restaurants - at least one less plastic bottle for the landfill.
Go ski touring
Instead of using lifts to go up the mountain, get there under your own steam, it really is the best way to connect with nature.
Shop locally
Buy locally sourced produce that is in season and avoid products shipped across the world. Most French ski resorts have local produce markets you can stock up from.
Use environmentally friendly skincare
Sunscreen is a must on the ski slopes, but some of the chemicals they contain are damaging for aquatic life. In recent years there has been an explosion in awareness and there are numerous brands now making more sustainable products.
Get involved locally
Support local organisations doing work in the resorts themselves. Take a look at what Protect Our Winters are doing, an organisation active in several countries raising awareness of climate change and the environment. They may be holding an event in resort when you're visiting.
Eco-friendly winter sports brands
Today you'll find eco-friendly brands making everything you can think of, and when it comes to winter sports equipment and apparel there are quite a few doing their bit to lessen their impact on the planet. Awareness is key, so read on for how you can hit the slopes with some 'green' gear.
Eco-Friendly Wax
When you're gliding down the mountain appreciating your newly serviced snowboard or skis, the last thing you want to think about is the damage your wax could be doing to the environment. However, certain waxes can take over 100,000 years to degrade and many are fluorine based, which is toxic to the wax technicians working on your gear, and its manufacture requires some nasty chemicals (PFOA). Once these bad boys enter the water system they can be damaging to humans, plants and animals. There are an increasing number of manufacturers now offering eco-waxes, that are biodegradable.
Eco-Friendly Equipment
There are several companies out there now offering skis and snowboards with a conscience. Arbor Collective are one such example and Snow & Rock are now carrying a few of their lines. Venture Snowboards is another who have three models in their range, all hand made out of sustainable harvest wood cores, recycled fabric, hemp top sheets and low impact resins and glues. Venture aims to have a 100% recycle policy in its factory and generate all of its own power from windmills. There is a growing number of independent ski manufacturers creating products out of environmentally sustainable, recycled or reclaimed wood. Some of our favourites include Idris Skis and Rabbit on the Roof - all made in France. Of the bigger brand names Salomon have made a name for themselves in recent years for adopting an eco-responsible attitude to their production methods, including reducing their CO2 emissions, replacing toxic substances such as fibre glass with bamboo and implementing a recycling scheme for old skis and snowboards.
Eco-Friendly Apparel
Make sure your new jacket doesn't cost the earth by choosing a brand that goes the extra mile to lessen any impact. These are companies that run their factories on renewable energies, seek to be carbon neutral, use entirely organic, recycled or responsibly-sourced materials, even using their voices in politics by endorsing politicians who champion environmental issues, and they offer free/low cost repairs to their products to make them last as long as possible. Brands such as Holden, Mons Royale, Berg Outdoor, Ortovox, Passenger, Patagonia, Picture Organic, Burton and Lib Tech are just a few of the many companies, both large and small, making smarter choices than their predecessors for future generations. Also look at what your materials are made from as certain waterproof materials are made from chemicals that aren't very good for the planet. Look for PCF-free materials to ensure they are sustainable.
More inspiration...
As you can see winter sports and the environment is a large and complex issue, but every time you buy from a company or brand that is choosing to make a difference you are voting with your wallet. Whist the thorny issue isn't going to go away, you have the power to make a difference for now and the future.