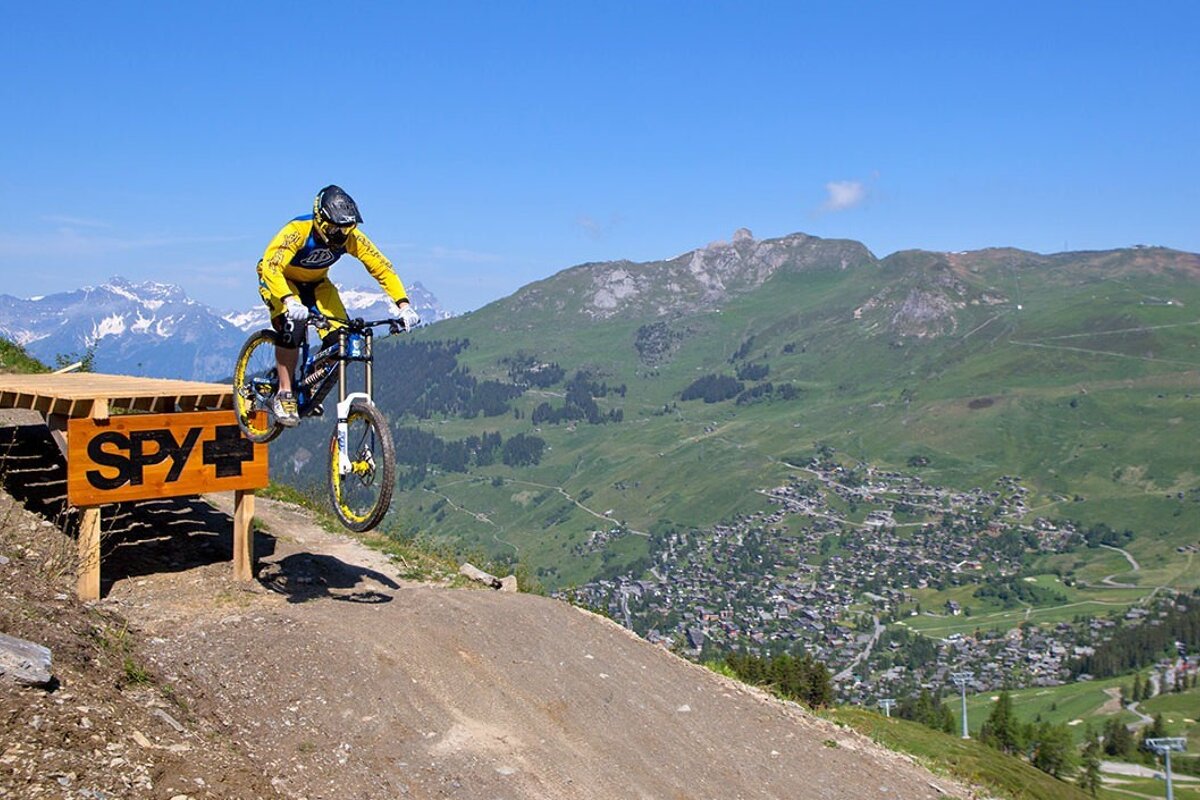 Mountain Biking in Verbier
Discover the top Verbier mountain-biking
The resort of Verbier provides an excellent base in which to explore the surrounding areas, and there's a huge amount of rental accommodation with prices significantly cheaper than the winter. Plus the town itself has excellent infrastructure, which is open by early June when the lifts open for summer activities.
And if you don't have all the gear, you can rent it when you get here either through your accommodation provider or through local sports shops and mountain bike guides.
Biking routes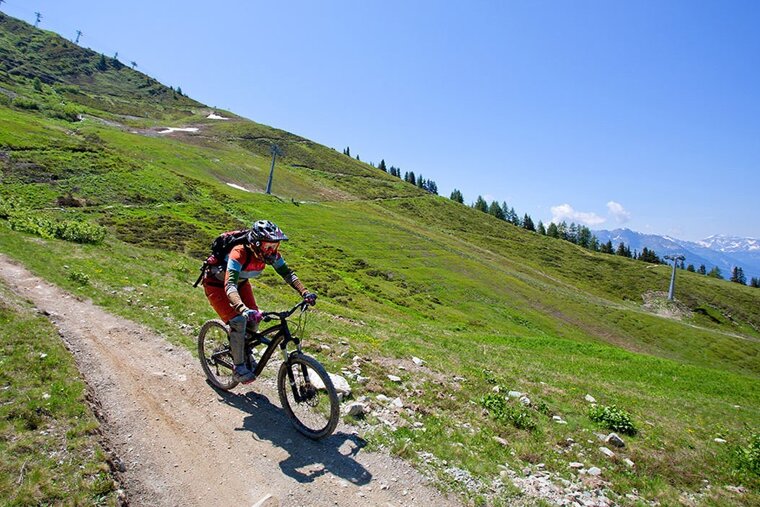 The Verbier Bike Park is a must for downhill fans with 19km of serious downhill tracks of varying difficulty located between Fontanets (2,475m), Verbier (1,535m), and near La Tzoumaz. The 700m vertical drop in altitude makes it more suitable for speedsters and hardcore downhillers, however, you have to start somewhere and the park offers nine different gradients of trail – one green, two blue, four red and one black, something for beginners, intermediates and experts respectively. There is also Tire's Fire, an expert/competition level track.
For enduro riders there are 18 routes of different levels, totalling 178km of trails renowned for their exceptional landscapes. On the Verbier side are 12 routes that are mostly blues and reds, over at Côte Bruson there are five routes with something for everyone, and La Tzoumaz has one blue and one black run. They connect with lifts, bus stops, restaurants and viewing points.
Cross-country enthusiasts are kept happy with two superb one-day itineraries, you can choose either 'easy' or 'pro-rider' routes of more than 50km. And for e-bikers there are various tracks that range in difficulty and length.
There is also a skills park, a dirt park, skate park and pump track.
If you prefer to take life at a more leisurely pace, there's plenty of mountain biking that is suitable for families and/or individuals who want to discover Verbier and its surrounding villages without having to furiously pedal uphill or kit up in full body armour.
Unsure of where to head and which trails would be best for you? During the summer months the Tourist Office run two free guided bike tours around the area. And Verbier is a great base for exploring other resorts and areas. For example Chamonix and the Portes du Soleil are only 1-1.5 hrs drive away. We know many people travel hours to get to their 'local spot' back home. Here in the Alps the options are limited only by the time you have to spend here.
Access for Mountain Bikes
You can either buy a day or half-day lift ticket to use the park, which will give you unlimited access to the Ruinettes gondola. Alternatively, each afternoon pro-riders from the Verbier bike team are available to show you around the trails (min. two people), telling you all you need to know about the park and the obstacles on the way. Advance reservation is recommended for these "Brakeless" sessions, and your lift ticket, bike hire and protective equipment are not included in the price. To check your progress during your stay, you can hire a "Freelap" timer, a cool gadget that will tell you the times of your descents on three different sections of the black "Tire's Fire" piste.
The lifts are open from early June until mid September, and you either take cable cars or use the specifically adapted racks on the side of the gondolas and chairlifts, allowing you to spend more of your time riding incredible alpine terrain rather than dragging yourself up steep inclines.
Lift passes can be bought at the lift stations on an individual ascent basis. However if you're here for a few days and are going up and down many times during your stay, it's more economical to purchase a Pass Sports Activity Pass which gives you six days of unlimited access to the main lifts and cable cars in the valley.
During the summer, all of the yellow Post buses that operate between Le Chable and Verbier are equipped to carry up to six bikes on specially adapted racks on the back. These racks are in operation from mid-May to mid-October each year and you have to pay a small additional fee to put your bike on the bus (approx CHF 2,-). It is recommended that you book in advance wherever possible to ensure that there is space, although there is always the Le Chable gondola option to save you pedalling all the way back up the hill. A similar bike service operates between Nendaz and Siviez.
Hiring bikes & equipment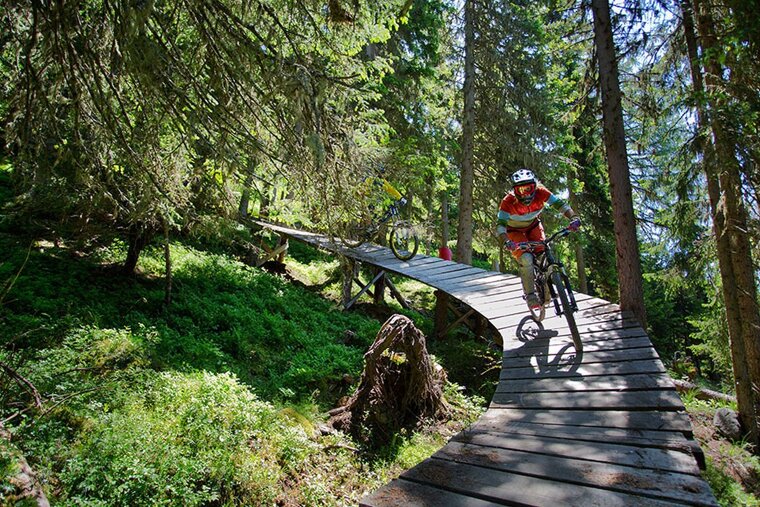 Whether to go full-suspension or hardtail is a question which creates a lot of healthy debate amongst the mountain biking community. Whether you're renting or buying you should first decide which type you're looking for, and there are numerous makes and models of both types available.
So what's the difference?
Full-suspension: Both front and rear suspension that is effective at absorbing lumps, bumps and jumps, thus providing better performance and a smoother ride.
Pros:
Much more comfortable and arguably more control over the rough stuff with more options to adjust to suit the terrain.
You can make a full suspension bike 'lock out' when needed, so the experience is like riding a hard tail.
Can handle larger drops and jumps.
More forgiving and confidence-inspiring as they have a wider margin for error allowing you to ride above your skill level.
Better tech beneath you - modern full-suspension frames are incredibly sophisticated.
Cons:
It can be more energy intensive on the uphill unless you have a 'lock out' facility on the rear suspension to avoid 'suspension bobbing' as you climb.
A weight penalty for all that bump proofing suspension.
Potentially more moving parts to repair should anything go wrong.
Difference in price is quite significant.
Hardtail: A bike with no rear suspension. Suspension forks may be at the front of the bike but its back post is rigid.

Pros:
In general, tend to require less maintenance and perform better on steep uphill climbs and sprints to the finish line.
Inexperienced or beginner riders may prefer to start with a hardtail complete with front, lockable suspension.
Good to get a feel for preferred type of riding before progressing to a full-suspension bike.
On the whole more efficient as they're lighter, maintain speed and no energy is wasted compressing a rear shock as you pedal.
Cheaper.
Cons:
Because of the rigid frame you won't be able to make any adjustments.
Less efficient on rough terrain, rather than rolling over, the rear tyre hops up off rocks and trees when on a rough trail.
Less comfortable as those shocks and vibrations transfer through the bike into your body, using your arms and legs as shock absorbers which can be tiring.
Less traction due to the rear wheel rebound on rough terrain.

Renting
If you plan on renting equipment then there are plenty of Verbier mountain bike hire shops hiring out both full-suspension and hardtail mountain bikes. On average you can pay anywhere between €16-€80 for a day's hire, depending on whether you select a bike with or without suspension. It's also possible to hire mountain bikes for children from around €15 a day.
Buying
There are numerous makes and models of both types available to the potential buyer so when deciding on which type of bike is best, it's important to consider the following:
Your budget!!
The type of riding you and your bike will be undertaking
The typical terrain and angle of decent you will be riding
Bringing your own bike
If you bring your own bike then there's no point filling your excess baggage with spare bike parts (unless your bike requires specific specialist component parts). Verbier has some excellent biking shops that sell plenty of spare parts and components for your bike. However, remember the spares list does not extend to some obscure pivot in your one off special downhill rig. We're talking rear mechs, pedals, cranks, chains, cassettes, brakes, brake pads, cables etc from the more popular manufacturers. The exception to this rule is the rear gear hanger; bring one with you for your bike, especially if it's of the super funky alternative/rare type. The bike shops do not carry this part for all the different bike manufacturers and models, and it's probably the most frequently damaged part in the event of a crash. Even a relatively innocuous fall can damage this part and although they can often be bent back into shape, it would be a shame to ruin your holiday if this were not the case.
Before you travel
It is highly advisable to ensure your own bike is in tip top condition before lugging it all the way over to Switzerland. A day riding in the Swiss Alps equates to many rides in the UK, and the wear and tear on your bike reflects this. If you start the week with your bike in a poor to average state of repair it will let you down at some point and spoil the day, if not the week's enjoyment. If you're not a competent bike mechanic then have your local bike shop service your pride and joy. It's also money well spent to upgrade your tyres if they are of the lighter weight cross-country variety, and purchase some free ride tyres with a 2.3 section to smooth your way and avoid the punctures. There is every chance a set of brake pads will disappear in a week, so bring a spare pair and carry them with you on the trails to avoid that metal on metal effect! If you run out of time before you come away, Verbier local bike shops will be able to carry out a service for you.
Equipment for cycling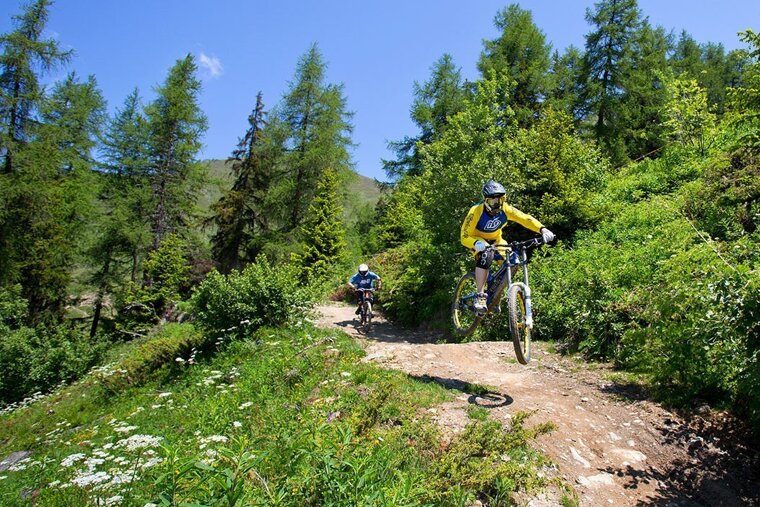 When out and about on the trails, here's a checklist of what you will need:
Water - One of the biggest problems in this region is the heat. Fit two bottle cages to your bike and take 750ml bottles containing electrolyte drinks.
Sun Cream - Don't forget that summer in the Alps is very hot, the thin air and hot summer sun means you will burn quicker here than at home.
Windbreaker - Although it may be warm in the valley temperatures can drop rapidly as you climb, weather can change quickly and the rapid descents can cool you down fast.
Snacks - Energy bars and gels are a very good idea if you're planning a day out.
Mobile Phone - Being able to contact someone to pick you up if your chain breaks is helpful.
Money - You may need it in an emergency or just for a beer at the end of the day.
Basic Repair Kit - You can't fix everything by the side of the road but not all breakdowns require the day to end.
Cycling hotels & camps
There are numerous companies taking the hassle out of organising it all, offering tailor made mountain biking holidays. There are many specialist chalet companies that run catered holidays and several local tour operators offering active mountain biking programmes, with little extras here and there that perfectly suit a range of riding levels from beginners up to skilled riders.
They will guide you around the various biking trails, offering some great cross-country riding and single track trails with spectacular scenery in the background. Due the technical nature of the routes selected, they do tend to have small group sizes allowing for better riding experiences and usually do not take beginner riders on their guided rides. If not everyone's a biker, some offer a discounted rate for accompanying guests who are not riding.
Wherever you choose to ride, you will inevitably have a thoroughly enjoyable experience in and around the Verbier area. The mountains are there to be enjoyed by everyone, so remember to be considerate of others when on your bike, following the 'mountain bikers code of conduct' at all times.
Flying with your bike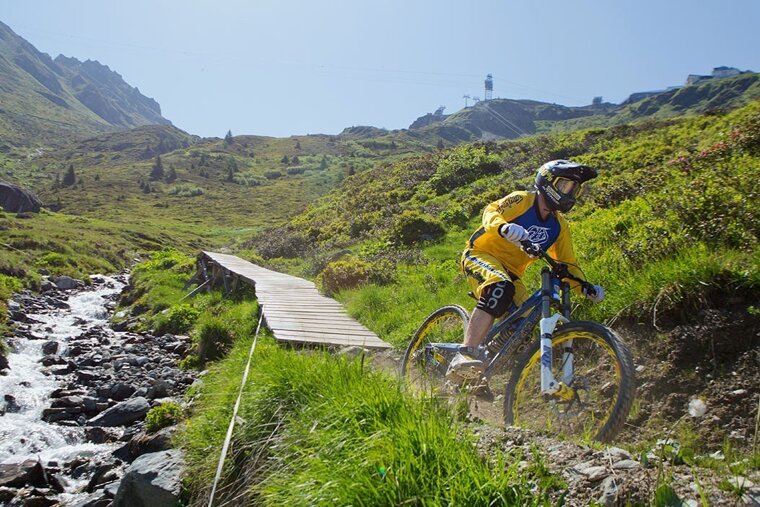 A review of the main airlines' Terms and Conditions, in relation to sports equipment/baggage, indicates that it's highly likely that you will be subject to a charge for taking your bike on board. Easyjet, Aer Lingus, Ryanair, and KLM all charge an additional one-way fee to carry your bike. At time of writing British Airways (and their partner Swiss Air) does not charge extra fees for taking bikes on their planes, providing they fit within the free baggage allowance and are packed in a hard shelled container, but we recommend you always check when booking.
Make sure that the combined weight of your luggage does not exceed your allowance. Although you may have paid an excess for your bike, its weight may be added to the weight of your hold luggage and there can be a penalty for any kg over the allowance.
Packing your bike for a flight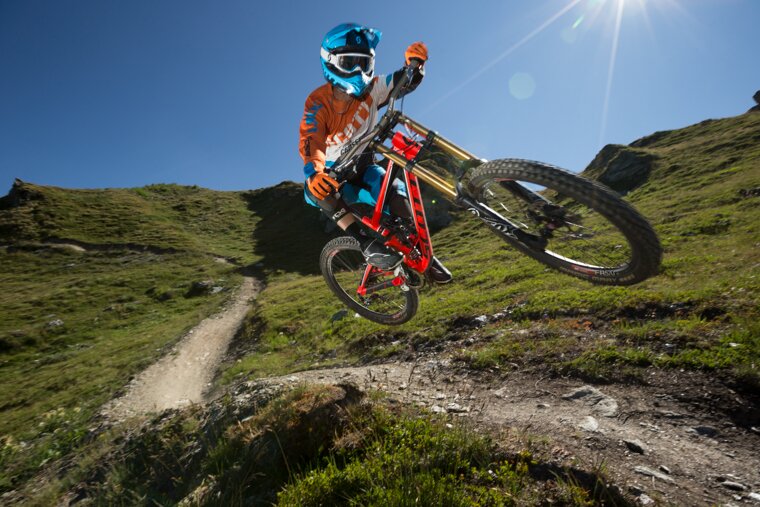 There are a few options available in transporting your bike. The rules and regulations of flying with a bike do vary massively across the carriers, so it's crucial that you follow their guidelines, and recheck them every time you fly as they can change quite frequently. On their websites you should find a sporting equipment or special baggage page where you'll find their policies. Generally speaking most airlines will require you to bag or box your bike, and contact them in advance to confirm/reserve your bike's spot on the flight.
Hard bike boxes tend to cost in the region of £300+ and like a hard case suitcase it will minimise the risk of damage occurring to your bike, but they are heavier. A soft bike bag is the cheaper option, costing around £100, but its protection is not as reliable as the hard box.
Most airlines stipulate the following:
Bikes should be contained within a protective box or appropriate bike bag.
Only one bike should be carried per box/bag, and no other items (except protective padding) should be included within the box/bag.
Handlebars and pedals must be fixed sideways against the frame or removed.
Tyres should be deflated slightly to reduce the risk of damage.
If you're transporting your bike, you should also check out your travel insurance arrangements. A lot of travel insurance companies will not cover your bike without an additional excess payment, and a lot of airlines will not be held responsible for any damage sustained whilst the bike is in their care. Check out your household insurance policy to see whether it can be covered as 'contents away from home'. There may be a slight surcharge for this option, but it's potentially better than having to fork out for a new bit of kit, or a brand new bike.
Bike packing options:
Cardboard bike box - pick up for free from many cycle shops, call in advance to make sure they have one. Be sure it's long enough to fit your bike. Remove the pedals, front wheel, seat post and handlebars. The front wheel can be placed beside the bike in the box and the handlebars taped against the frame. Tape the pedals and seat post to the frame too so they won't fall out should the box get ripped in transit. These boxes are ideal to travel with, you can recycle it on arrival and get a new one before you return home. These can be a nightmare to move around where there aren't any luggage trolleys available.
CTC bike bag - heavy-duty polyethene bag designed for bikes, you'll need to deflate the tyres, remove the pedals and turn the handlebars inwards, but likely you won't have to remove the wheels. You can even get see-through ones, which may entice baggage handlers to treat it with respect as they can clearly see a bike is in there. These bags offer little protection against damage so be sure to add pipe lagging to the frame tubes and tape the rear derailleur to the inside of the chainstays. Not all airlines will accept these bags, due to their lack of protection, so check before you buy one.
Dedicated bike bag - Either hard or soft case, the former providing more protection against damage, they have padding in all the right places. They're good if you're staying somewhere you can store it easily, as they aren't flat-pack. Some come with wheels so you can pull it easily through the airport.
Top Tips:
Put all your clothes in plastic bags and use them to pad the bike, this works well especially with a 30kg weight limit.
In addition to bubble wrap (and clothing), purchase some pipe lagging and zip ties from a DIY store to put around the frame of the bike for protection during transportation.
If you don't have your original cardboard bike box, ask your local bike shop for one. If you have the choice always use the manufacturer's box and your bike should arrive safe in one piece.
The most frequently damaged part of a bike is the rear gear hanger. Remove the rear gear mechanism and tie wrap loosely to the frame to avoid this scenario. This applies almost equally to disc brake rotors if your bike sports them. Take them off, likewise pedals, it's only a five minute job and will prevent you engaging in a fruitless search for an obscure part in resort.
Print out the airline's policy on carrying bikes and have it ready to politely show at check-in if necessary. Also if you've booked your bike on the flight, make sure you receive proof of this, and then print it and carry with you when you travel.
Leave yourself extra time at the airport to allow for any check in issues.
Taking your bike on the train
Going on holiday to France with your bike is pretty straight forward, but as with a lot of things, it's better to book in advance.
The Eurostar
Currently only allows you to take your bike on selected trains between London and Paris, so it's best to book early to avoid disappointment. At the time of writing, Eurostar was working on reopening the service to other destinations in the near future, so check available routes before you start planning.
Here's how:
You must reserve a place for your bike on the train in advance of travel (subject to availability). Your bike needs to be registered as oversized luggage and the booking process is two-tiered. First you must book your ticket, and then call or email them separately to find out if there is space on the train you have booked. If there is no space on your chosen train, it may be possible for the bike to travel on an earlier train and be available for collection upon your arrival.
You should be able to take your bike either fully assembled or boxed. Eurostar can provide boxes and there are tools to break down your bike at its stations in London and Paris, or alternatively you can use your own bike bag or box and it will be recognised as 'luggage' rather than a bike. If your bike is placed in a suitable bike bag no longer than 85cm, you can carry it on board as part of your baggage allowance.
France
Once you're in France getting around with your bike can be straight forward, but again planning ahead and getting to the station early are highly recommended.
Domestic or regional trains (TER) and tourist trains: Quite often they allow you to transport your bike for free, although you may have to put it in a bike compartment, hang it from a hook to save space, or fold it up and take it on as hand luggage. Spaces are limited and you cannot reserve in advance, and in some regions bikes aren't permitted Monday-Friday during rush hours as the trains are too busy with pedestrians.
TGV InOui: You must book a space for your bike if it's non-folding and this needs to be done when you buy your ticket. Your seat will automatically be placed near to the bike rack. If there's no option for a bike to travel with you it means the train in question does not have space available. If your bike is foldable or dismantled in a bike bag it can travel for free without a specific reservation as long as it fits the dimensions: 130x90cm.
Regional trains: In Ile-de-France, (the region surrounding Paris), these trains are called Transilien and they are the country's busiest commuter trains. They operate into all of Paris' stations and run on lines with a letter associated (line K, line P, etc.). They also include the RER trains, which run on lines A to E. You can take your bike on board a Transilien Monday-Friday, before 06:30, between 09:30 and 16:30, then after 19:30; at any time on weekends and public holidays and at any time if it's folded or placed in a bike bag and does not cause fellow passengers any inconvenience.
Intercity trains: It's best if you can dismantle your bike and carry it on in a bag no more than 130x90cm. Some of these trains require a seat reservation, whereas others do not. Consequently, according to the type of train, it may or may not be necessary to book, or pay, for a place for your bike.
Switzerland
If travelling to Switzerland via France, from Paris you would need to take a TGV-Lyria high-speed train from Paris to Geneva (3h), Lausanne (3h40), Bern, Basel (3h) or Zurich (4h). The Swiss have made public transportation an easy way to travel with bikes, with affordable tickets and special storage areas. You'll need two tickets, one for you and one for your bike.
Short distance: Simply buy a half-fare for the bike in addition to your own.
Day pass: If travelling more than a few stops, it is more affordable to buy a day pass for you and your bike that includes all of Switzerland for 24 hours.
Multi-day pass: A six-pack of bike day passes, the same price just more convenient and you can use them on non-consecutive days and for multiple people on the same pass.
Year pass: Loaded onto your own Swiss Pass card and therefore linked to you and your bike.
Reservations for bikes are required on all InterCity trains, and you need a reservation for international trains that pass through Switzerland. When checking a train schedule look for the bike icon in a box, that means a reservation is required. It's a nominal fee, just make sure you pay it.
Bikes are not allowed on the S-Bahn trains during rush hour, Monday to Friday, 06:00-08:00 and 16:00-19:00.
Most trains have a special storage area for bikes, you simply load it yourself and some areas actually have safety belts to secure your bike to the wall. Some trains have an extra luggage wagon for bikes, and in this case it's the attendant that loads your bike.
Races & events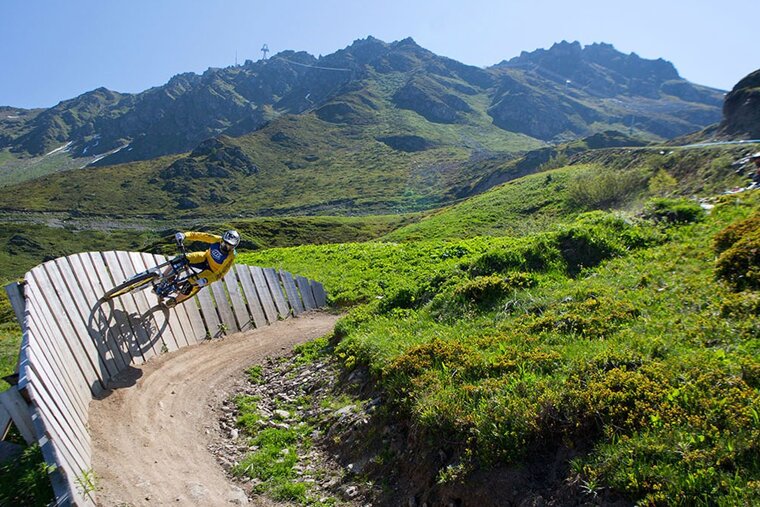 Verbier E-Bike Festival
Test, ride and enjoy e-biking as over 30 manufacturers put their latest equipment on show at this four day ebiking festival. Take part in discovery trails, some include a night in a mountain hut, plus there's gourmet tours, enduro challenges, and even a three-day tour of Mont-Blanc. Many of the trails are available in more categories than eMTB, where those without e-bikes can also take part.
E-Mountain Bikes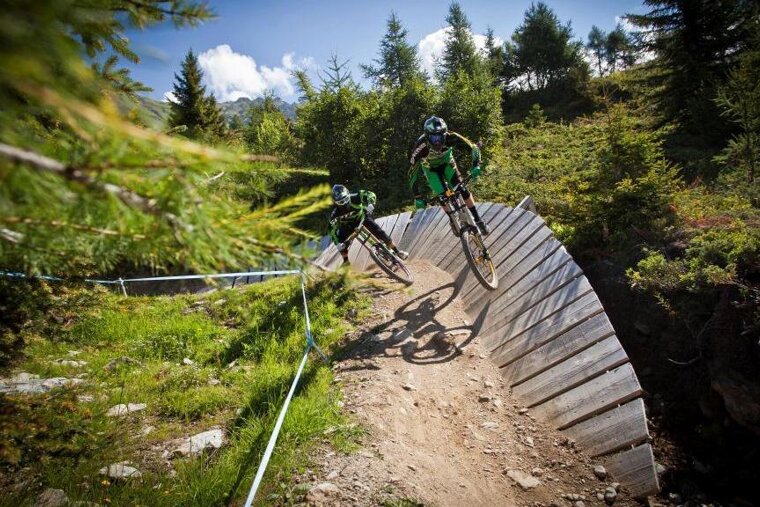 This is an industry that has seen incredible interest and growth, post-pandemic, largely due to rising technological advances and rapidly charging batteries, and it being a cheaper alternative to mainstream transportation. People are also more aware of the health benefits, and e-bikes offer access to getting out and about in a less strenuous way. Plus, they are seen as the eco-conscious alternative to motor vehicles, and with policymakers developing cycling infrastructures across towns and cities the world over, bike use has rocketed generally. In fact over 25% of money spent on mountain bikes in 2020 was on e-bikes. Specialized - one of the big three - was one of the first to introduce e-bikes to their mountain bike line-up, realising that the learning curve and fitness curve for mountain biking was steep and harsh. If riders had an eMTB they were more likely to enjoy the experience and then more likely to want to ride again. Now almost every bike brand has several eMTBs on offer with their ranges steadily growing. Also eMTBs now have their own XC World Cup category, meaning this sport is only going to keep growing.
The industry does suffer from supply issues, and since Covid supply chains from Asia have become complicated, transit times have doubled and container costs more than quadrupled. So when you find the eMTB for you, be aware you may have to wait quite a while for it.
What is an eMTB?
A mountain bike with an integrated motor that assists the rider when pedalling. There isn't a throttle, so if you don't pedal there is no support, and they only provide support up to a certain speed limit: the speed limit in Europe is 25km/h and 32km/h in North America. Whether they are hardtail or full-suspension, there are three distinct categories: Light, All-round, and Power. They come with all the things a traditional mountain bike has, but they are heavier and have distinguishing features such as an electric motor, a battery pack, and a handlebar-mounted computer that controls it all. The assist modes consist of: off, low (barely helps), medium, eco, and a battery-draining sport/high mode.
There are some things to consider when buying an eMTB, here are a few:
Full-suspension or hardtail? According to the experts there is no good reason to ride a hardtail, unless you only ride on well-maintained roads or in the city. The more affordable price and lower maintenance costs are the main reasons you may buy hardtail.
How much travel? This refers to the suspension and is a measurement of how much a wheel can move to absorb bumps. As a rough guide 130-170mm is ideal for all-round use. Bikes with less are usually trekking bikes, and more is suited to extremely demanding terrain.
How much are they? Very manufacturer dependent, but a full-suspension eMTB will set you back at least €4,500-5,000, but the sky's the limit. Hardtails usually come in around €1,000 cheaper.
What is the range? Heavily dependent on battery capacity, the mode selected, rider weight, and elevation profile.
Key terms:
Battery capacity - indicated in watt-hours (Wh). Depending on the bike this varies from 250Wh-1,000Wh.
Motor output - specified in watts.
Torque - measured in newton metres (Nm) and describes the driving force with which the motor supports the rider when pedalling. The higher the torque, the more assistance.
Wheel size - 27.5", 29" or a mix of the two are the three common wheel size combinations.
Suspension - depending on the purpose and model this varies between 100-200mm.
Fat tyre eMTBs
You'll see these around the trails from time to time, and simply put they are an eBike with tyres of four inches plus in width. Designed primarily to ride over snow, the heavy-duty tyres gives a greater ability to travel over more surfaces than bikes with a normal tyre width, such as snow, dirt, sand, wet stone, loose ground like leaves, twigs and rocks, and pavements or parks. They improve balance and stability on any type of terrain, and are therefore perfect for those who want more versatility and comfort, as comfort is definitely their greatest advantage. Rising in popularity, they can be harder to handle on the trails as their braking isn't as precise and performance isn't as good as with a bike on regular mountain bike tyres. Also worth remembering is that by having fat tyres, the frame, rim and axles are bigger and heavier, which isn't ideal for everyone.
Sharing the same trails
There has been some controversy in some areas around eBikes sharing the same trails as mountain bikers, hikers, horse riders etc., and in some countries and states they are banned from non-motorised mountain bike trails. Verbier has 29 trails dedicated to eMTBs, with the possibility of getting back up using the lifts it just remains for you to go have some fun.
The majority of rental shops in resort will have e-bikes available for hire should you wish to try this fast-emerging sport for yourself... just be warned, it's addictive.