Why advanced skiers love Verbier
The mecca for advanced skiers in Europe
Verbier is ingrained with an enigmatic skiing culture that goes back decades.
With Verbier annually hosting the final of the Freeride World Tour, it's no surprise that it's a complete mecca for advanced skiers and snowboarders. The resort is as serious about snow sports as they come, often compared to other die-hard skier havens like Revelstoke, Jackson Hole, and so many more.
Advanced skiers will love the vibe in Verbier, shredding the powder alongside the many pros that visit or call this playground home.
Here are a few reasons why advanced skiers and snowboarders should pay Verbier a visit.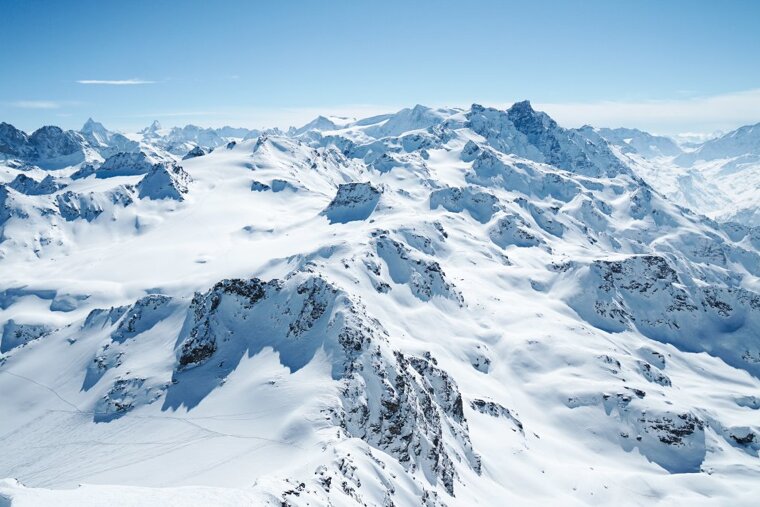 Reds and Blacks
The ski area is massive, with over 410km of pistes, the Four Valleys is the largest ski area in Switzerland. You can spend a week here and easily not cover even half of it. The Verbier lift pass alone offers enough runs to keep you well entertained for the duration of your holiday with its 39 red and 14 black pistes. This is undoubtedly where Verbier comes into its own, because much of the resort is geared towards advanced skiers and snowboarders, from high altitude pistes running for several kilometres and covering tonnes of vertical descent, to tree lined slopes with excellent jibbing terrain to the sides of the runs.
The ski areas accessible from the Medran cable car or the Savoleyres gondola offer some fantastic terrain for intermediate and advanced skiers and snowboarders.
On a clear day head to the Mont Fort sector, there is one marked black run, steep and often mogully it pretty much follows the fall line to skiers' left of the lift, easing in gradient as you near the Col des Gentianes, and after this take the long red run down into La Chaux. From the Col des Gentianes you can ski the Glaciers 2 red runs if they are open.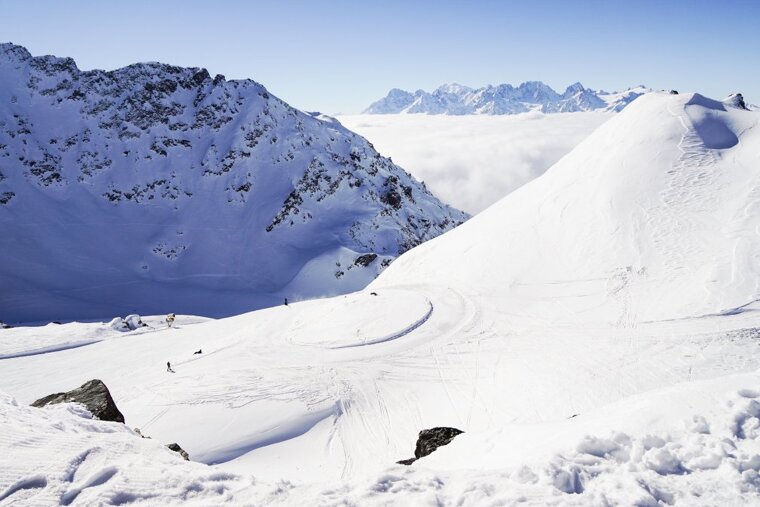 Going off-piste
Verbier is also full of 'itinerary' runs. A phenomenon found in the Swiss Alps, these routes offer excellent introduction to off-piste skiing and allow the opportunity to develop skills in a relatively safe environment. They are officially designated off-piste routes, marked on piste maps with yellow lines, with a single line of yellow poles in the snow marking the direction of the route. These routes are not maintained, not controlled, and whilst they are patrolled by the pisteurs, they are intended for experienced users only. Although they are avalanche controlled, do not confuse them with marked pistes, and definitely do not venture into them when closed due to high risk of avalanche or other dangers.
In resort there are also several 'itinerary' runs, such as the revered Chassoure de Tortin and Col des Gentiannes, which are essentially unpisted, marked runs which turn into huge, leg-crushing mogul fields after fresh snowfall. A large gondola can whisk you up to the 3,023m peak of Mont Gele. From here it's all un-pisted runs leading down to Siviez, at 1,730m, in the valley.
From the top, you can choose from either the marked itinerary run, or the endless opportunities for long and adventurous off-piste descents. Alongside the terrific marked off-piste skiing, Verbier is world-famous for its backcountry terrain. Breathtaking high-altitude backcountry routes are a-plenty here, and it's incredible how many are lift-accessible. Backside Mont Fort provides a plethora of unbelievable route options, finishing with a beautiful traverse around the Lac de Cleuson. If the clouds roll in and the visibility up high worsens, then Savoleyres, Medran, and Bruson all have world-class tree-lined skiing, from tight sections where good technique and concentration are required, to open bowls, pillow lines, and cliff drops.
Off-piste skiing or snowboarding is different to piste skiing or snowboarding, and therefore needs a slightly different approach. It's definitely worth a lesson in 'off-piste' techniques if you're new to it, or would like some tips for riding steep and deep powder. It also pays to have someone with a bit of local knowledge, a mountain guide/off-piste instructor will be able to show you all the best spots to suit your ability.
For those of you interested in ski touring, in Verbier a short ski tour can take you to some of the most pristine and untouched freeride lines in Switzerland. To get the best out of your experience, and to keep as safe as possible, experienced guides are always available to take you to some of the secret spots around the mountain. Almost all of the hire shops in Verbier can rent you avalanche equipment, as well as top quality skis and boots from this season's stock.
Parks
La Chaux is where the Verbier snowpark is located, so once you've had enough fun bouncing around the reds and blacks, and in and out of the pow pow, how about hitting a few jumps, boxes and rails. The snowpark starts life as soon as the snow arrives in early November, and as the season progresses, the Verbier piste-grooming team continue to build and extend it until it becomes an elaborate playground of rails, boxes and jumps. The Faction Collective, well known for their collaboration with skiing superstar Candide Thovex, started life here in Verbier over 12 years ago, and you can often find the team showing off their skills in the park, with huge airs and mind-bending tricks on regular display.
Sat in a naturally sunny bowl, the park features a camera system to film your exploits. There are five routes through the park, and an air bag, just stick to the line that best represents your experience - those black run kickers can be pretty big.
The great thing about the park in Verbier is that it's serviced by a fast chairlift, so it doesn't take long at all to get back to the top if you're spending all day lapping it.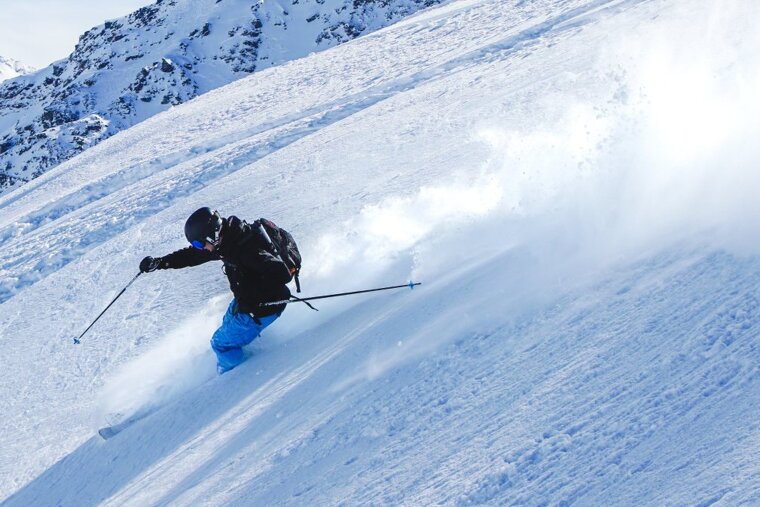 Linked resorts
Verbier is a part of the 4 Valleys ski area, and Mont Fort at 3,300m is the highest point. The rest of the 4 Valleys, namely Nendaz, Siviez, Veysonnaz, and Thyon are jointly named 'Printze' and offer a great choice of reds, as well as a few black runs. The highest point here is the Greppon Blanc, at 2,700m under which you'll find a selection of red and black runs taking you bakc to Siviez or traverse across to Thyon, the back side of which is the furthest point in the 4 Valleys ski area and you definitely need to be a competent skier or snowboarder to get across here and back.
La Tzoumaz and Savoleyres is just to the left of Verbier, and is popular with families and beginners and has one of the longest sled runs in the Swiss Alps. Bruson is a great place to head in bad weather, has some fun off-piste, and sits just opposite Verbier across the valley.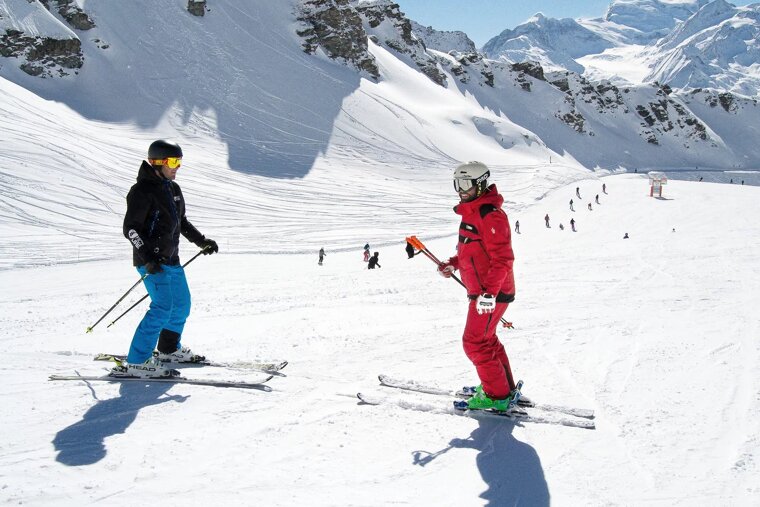 Great weather and snow conditions
With so many of the red and black runs, plus the itineraries, to be found at the highest points, the quality of snow for the intermediate and advanced skiers/snowboarders is virtually guaranteed.
Following on from the lift company's investment in new snow cannons on the Sud and Philippe Roux pistes, improvements of the snowmaking equipment between Le Lac des Vaux and Les Ruinettes are also underway to keep the resort snow sure longer.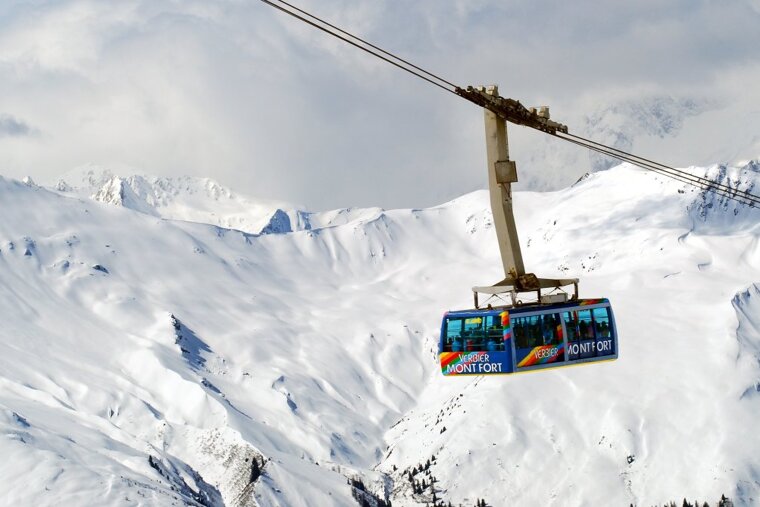 Modern lifts
With all of these pistes to ski and snowboard both in resort and across the domaine, you want to make sure that you can get around easily and speedily, thus avoiding older slower chairlifts that break down. The Medran 1 gondola is going to be replaced with a new 10-seater using the latest cable car technology.
The vast expanse of skiing, along with an impressive and modern lift system in Verbier, spreads the crowds excellently, so the resort often feels far less busy than it actually is. Only in the very peak weeks of the season can you really notice any lift queues, and even then compared to many resorts it feels quiet. The lack of crowds also means more space on the pistes to practice technique and tricks, without feeling like you're dodging beginner skiers.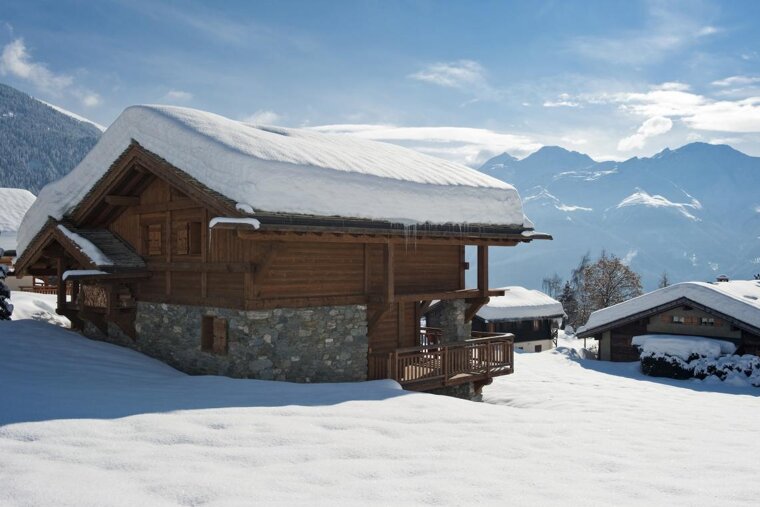 Ski in, ski out
Verbier also has the option of ski-in, ski-out accommodation. Many such chalets are found in the slightly quieter locations overlooking the pistes, offering incredible views. This is ideal if you are an experienced skier or snowboarder, because what better way to start the day than to be straight on the slopes the minute you walk out of the door. And even better to finish off the day with that last run taking you straight back home again, no lugging skis, snowboards and the like on and off buses and through the streets. Dump your gear and get straight out for après, or pile into that tea and cake your chalet hosts have so kindly left out.
Something else to do
Even the most die-hard skiers and snowboarders need some down time. When it's time for a break from all of that, it's good to know there's something else to do in resort when you want to spend time with your family and friends. Whilst Verbier has great bars and restaurants offering up some of the best food and après-ski in the world, there are other ways to entertain yourselves in the evenings and on that much needed day off.
You can drive a dog sled, ride in a horse drawn sleigh or go ice skating. Alternatively if 'chill' is at the top of the agenda, visit a spa for a relaxing treatment or take a dip in the pool at the sports centre. There's definitely no shortage of things to do, or not, in Verbier.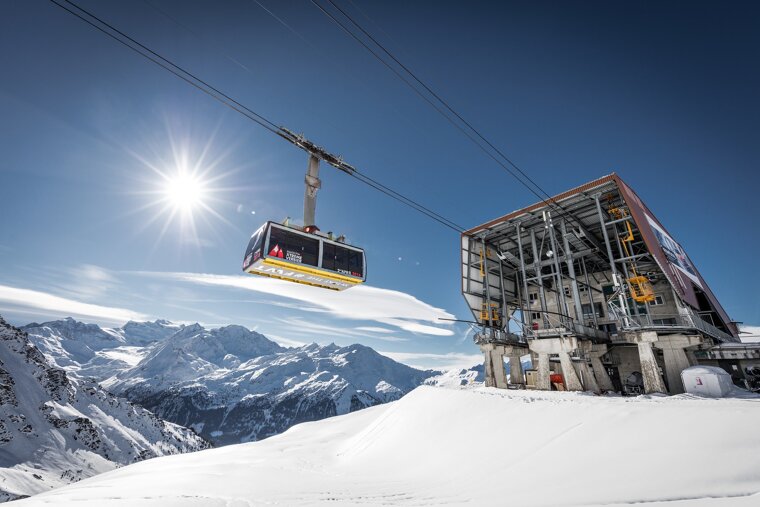 Safety first
Exploring beyond the ski resort boundaries is an amazing experience for anyone who's physically fit and has mastered the pistes well enough. There are, however, risks associated with venturing outside the safety of the marked/patrolled ski area, including awareness of your actions on those below you on the slopes. Mountain guides are professionally qualified and have extensive knowledge of the local terrain to provide you with the safest and most enjoyable possible experience in the mountains; as a visitor here we highly recommend you hiring one. Many ski schools also provide instruction in off-piste skiing, avalanche safety and mountaineering techniques. Make your time in the mountains unforgettable for the right reasons, ski safe.
Off-piste skiing and mountaineering are dangerous. The opinions expressed in these articles are very much time and condition-specific and the content is not intended in any way to be a substitute for hiring a mountain guide, undergoing professional mountaineering training and/or the individual's own backcountry decision making.
More inspiration...
These are just some of the great reasons to come and visit Verbier and ski some of the very best pistes that the Alps have to offer, but there are many more. So get out here and give it a whirl.