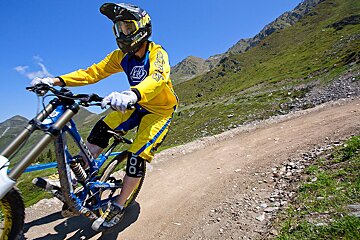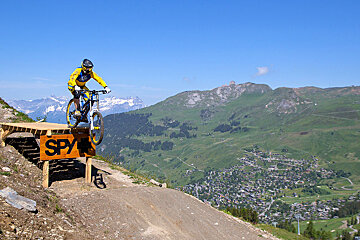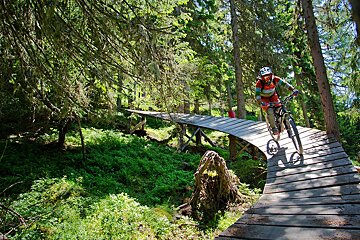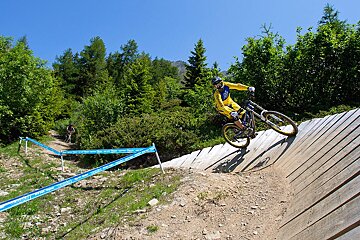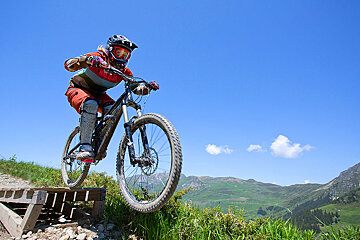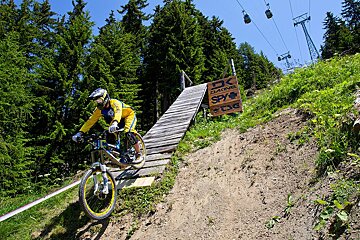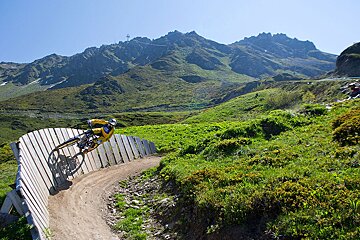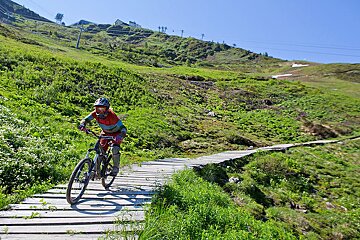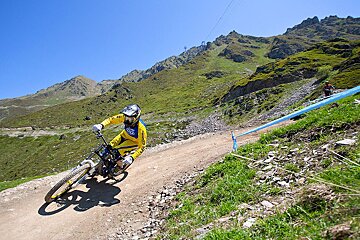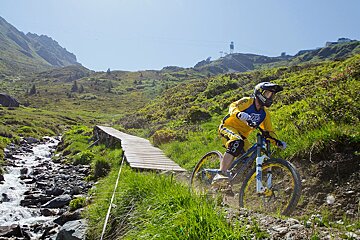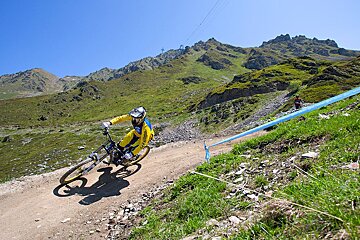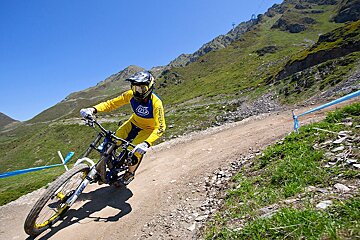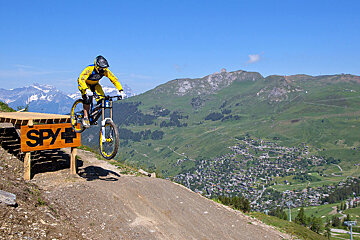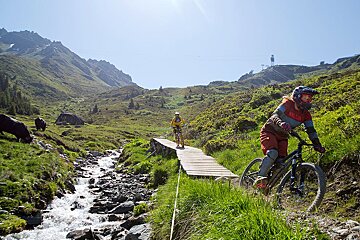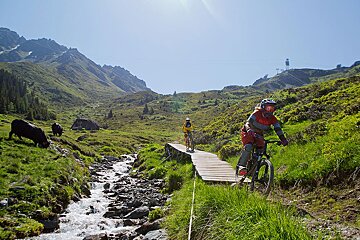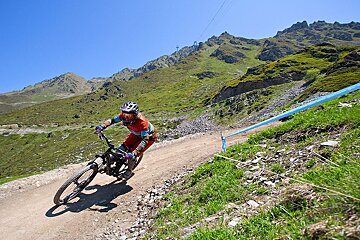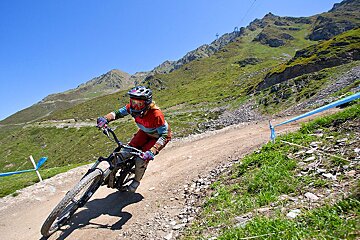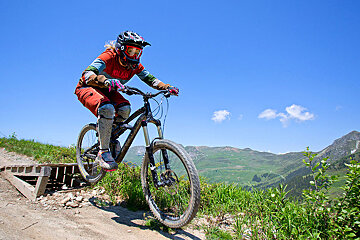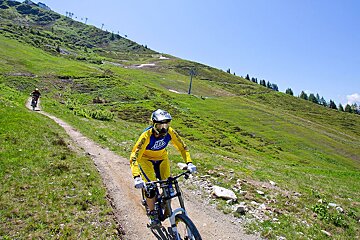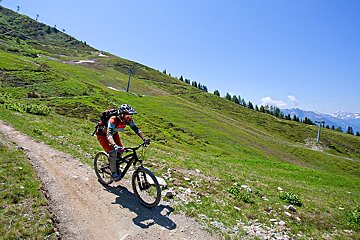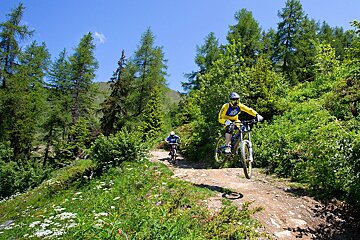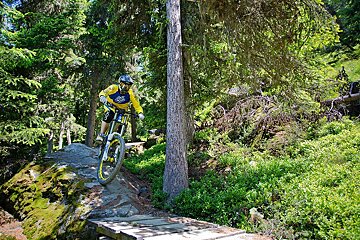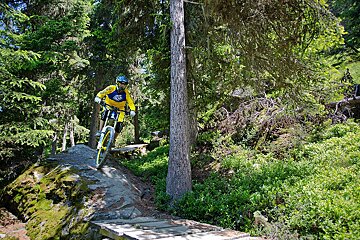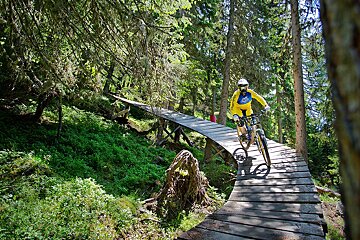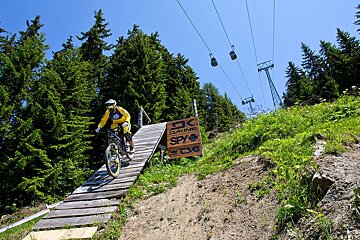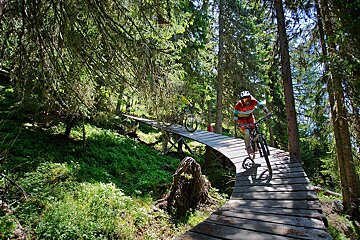 Verbier Bike Park Review
Mountain Biking in Verbier/Tzoumaz Bike Park
Just before the weekend we'd seen that the team at Verbier Tzoumaz Bike Park had finished off some new north shore and two new sections of red trails. Thankfully most of the snow that delayed the bike park opening this year has gone, so we headed up to check out how it's all looking.
The great thing about Verbier in summer, and on a clear, sunny day like Saturday, is the views. There doesn't seem to be a place in resort where you can't see across the valley to Bruson & beyond, it's really quite beautiful. Plus most of the snow has now gone except for on some of the higher walking trails (hats off to the guy with his cross country skis that I saw at the top of Ruinettes!), so there's generally a lot more to access.
Since it was so hot, it felt a bit wrong to be heading up the mountain in full face helmets, long sleeves, gloves and body armour, but then as soon as soon as we started checking out the tracks we didn't mind so much.. the riding here is full on and you needed every bit of protection you've got!
If you're more used to riding single track and a few bits of berm-laden downhill tracks like me, the mountain bike trails in Verbier might come as a bit of a shock to the system. To say Verbier is a testing downhill bike park is a massive understatement. The one and only blue trail is more like a red, the reds are like blacks, and then there's the yellow trail which is one level up from the black.. it's super technical in places, it's steep, it's got 3 different grades of difficulty jumps & locals say this is the only downhill track worth riding. Gulp...
To put it in perspective I rode (ahem - mostly rode) the bottom section of the "Tu Cici!" trail, which starts off with a steep entry into steep, tight switch backs, then north shore to a small step down, onto a loop of north shore round the trees, down into a steep rocky switchback and then onto more north shore. This bit drops off at waist height (where I dismounted!) down into a sharp left handed wall ride, and then on to the last section which takes you up onto a platform where you can either ride the steep ramp down, or take the ballsier approach and stay left, exiting off a massive drop (see pics). Nails... and this is a red!
Small sections of the yellow were good fun, but then turned into a no-chicken-line choice of jumps; the big one or the even bigger one (I made my own way round on the grass while the lads got lots of air!). The good thing is that you can mix and match which route you take all over the bike park; Start on the blue, take a cut onto a red followed by a yellow, then back onto a red or fire road and so on. The blue trail which I spent most of my time on was fast and flowy with quite a few rocky, technical sections, north shore and plenty of jumps and little features to ping over - loads of fun, and I added on parts of the reds or yellow depending on how brave I was feeling. I didn't try the black although I expect it's pretty darn hard.. maybe another day?!?
There are plenty of options once you're on the mountain, it's not all downhill hard core riding. You could spend time just riding on the fire roads or doing the Tour du Mont Fort for enduro fans, or heading over to the Savoyleres lift for some single track (be warned this is really a walking trail, so don't expect to have it to yourself!) You can also time youself on three different sections of the downhill trails with the 'Freelap' timing system. Look out for handy signs at the start and finish of each section and hire or buy your timer watch from the Information Office.
Whilst we were getting on the Medran lift, we spotted a couple of mountain scooters which you can hire for 12CHF (around £8) We saw a fair few kids racing around on these and it has to be said I was tempted ;-) There were also a couple of people on the electric bikes which they told me were great - no more pedalling uphill, which I'm not surprised they were happy with on such a hot day!
If mountain biking isn't your thing, then there's still lots to do in Verbier in summer. We saw golfers, paragliders and parapenters enjoying the good weather, as well as plenty of hikers. There's also paddle-boarding on the quarry lake down in Le Chable, a horse riding centre, volley ball and swimming. Check out our Activity Section for more ideas.
If you're coming to ride the trails here from outside resort, I'd recommend you park at Le Chable lift station, as there's lots more space for parking, and you can get your bikes up two at a time on the gondola cabins. From here you stay on the gondola as it passes up throught the centre of resort and through the main Medran Lift right up to 2,200m where the start of most of the trails are.
The other bonus about parking at Le Chable is that you can drop into La Ruinette Cafe for a cooling drink & some food after a long, hot day on the mountain. They're open from 8am to 11pm (except for Mondays when they close at 4pm) and serve a great selection of home made food on the menu. There are lots of veggie options, and you can get a curry every Tuesday night and delicious sausage rolls ;-)
A one day mountain bike ticket will set you back 30CHF (around £21 or 24 euros), and give you access to the two lifts mentioned above as well as La Tzoumaz / Savoyleres.
Thanks to Verbier Tzoumaz Bike Park for the gnarly riding, Ali at La Ruinette Cafe for a nice cold beer at the end of the day, Maloja UK for my bike clothes and Tom Humpage for the photos.
Location