The ski area is so vast it can be difficult to know where to start, so we have put together some of our favourite runs throughout the Verbier ski area.
Buy My Ski Pass Book My Ski Hire Book My Ski Lesson
Whether you're into moguls, steep and long descents or simply beautiful, quiet pistes with great snow, we hope that these suggestions will hit the spot.
Leisurely Runs in Verbier
Boasting three nursery slopes/beginner areas in the resort itself, the Verbier ski area also offers great beginner terrain up at La Chaux, now accessible directly from Médran thanks to the recently built La Chaux Express Combi-Mix lift.
Also serviced by a 4-man chair, this sun drenched area is a great place to practice & progress as there are nice, easy runs which tend to soften up in the afternoon given its south facing orientation.
Four marked blue runs await beginners and low-intermediate skiers and snowboarders here. From top to bottom, these are:
Lac des Vaux 1:
From the top of the Lac des Vaux quad chair, exit left and follow the slope until an intersection where you can choose to go left (Lac des Vaux direction) or right (Ruinettes direction). Take a left and continue in that direction until another intersection, where you can either go straight or slightly right. Either way you choose, the slope eventually makes a final left turn and follows the Lac des Vaux triple chair line to the bottom of both Lac des Vaux lifts.
La Chaux 1:
From the top of the La Chaux Express, head towards the area of Les Fontaneys. From there, continue across the top of the bowl, traversing the whole thing along the flat road until you pop over back on the La Chaux side of the ridge. This run, also marked as 'Grenier' on the piste map, will eventually take you back to the bottom of the La Chaux Express lift, via the tail end of the snow park. Because it is slightly more out of the way, it isn't rare to have parts of this slope entirely to yourself.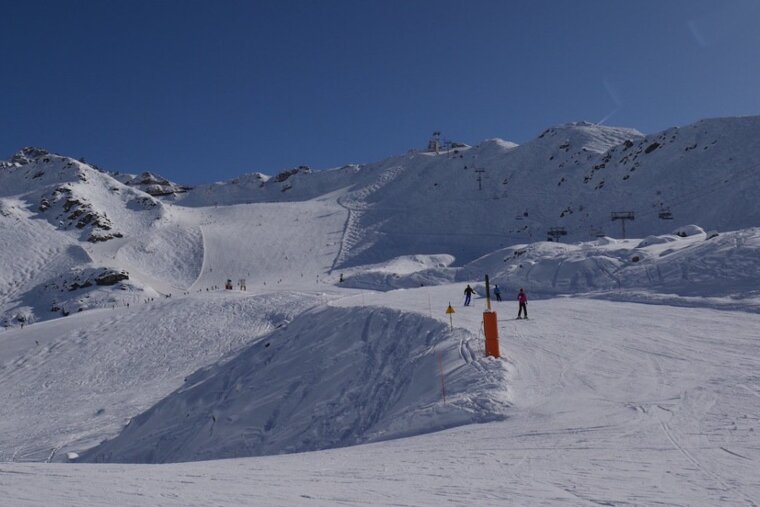 La Chaux 2:
From the top of the La Chaux quad chair, exit right and take the piste directly to the right. This run winds its way down for the most part on the skier's left or directly below the lift line, eventually ending up at the bottom of the lift. Some sections are marginally steeper in places but overall, the descent is quite mellow; perfect for learning!
Médran 1:
Starting at the Ruinettes, this run is an endless cat road which switchbacks its way down a number of times all while crossing numerous red runs along the way, until it reaches the Médran lift station in town. It is also possible to take the run from the top of the Mayentzet double chair, from which it is a much shorter journey down.