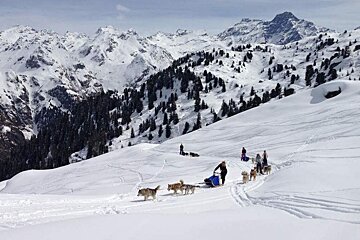 Non-skier things to do in Verbier
Can't ski, won't ski? It's not all downhill you know
When your family and friends want to go skiing, but it really isn't your cup of tea, don't panic.
You don't have to ski or snowboard to enjoy a memorable holiday in a ski resort.
Whilst Verbier is a great place to come skiing, there are many activities here to suit a non-skier of all ages and tastes.
Here are some great ideas for you:
Buy a pedestrian pass and jump on a lift
Go to après-ski along with everyone else
Ride in a horse drawn sleigh or with huskies
Book a tandem flight
Go snowshoeing or ski-touring
Go to the sports centre
Visit a spa for some relaxation
Book a restaurant for lunch
Visit a museum or see a film
Learn nordic skiing - you might just like it!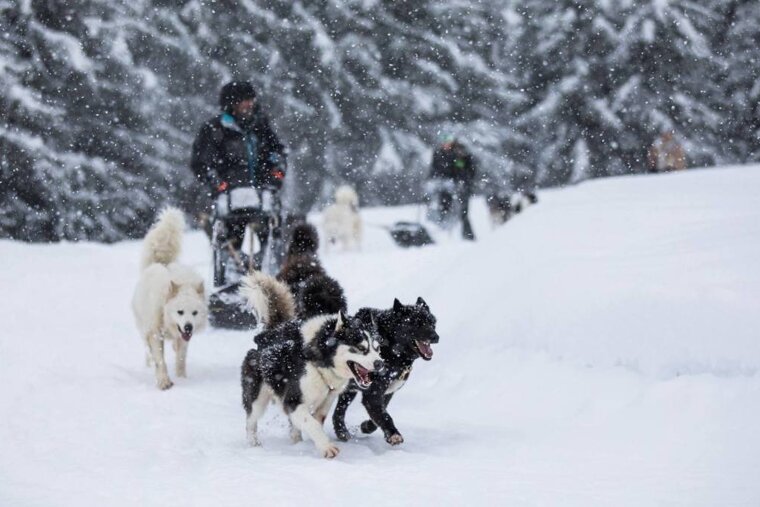 Snow fun without the skis
Buy a pedestrian pass
Enjoy the mountains as a non-skier by buying a pedestrian lift pass. It provides access to many activities, and many mountain restaurants. Over half of the mountain restaurants can be reached on foot by ski lift, so it's entirely possible to meet up with your family and friends for some fine dining. There are well marked walking trails between Les Ruinettes and La Chaux and up to the Cabane Mont Fort from La Chaux. Call into the tourist office for maps and itineraries. Always dress for the weather - layers are the key, sunglasses and sun cream are vital even on a cloudy day. Stick to the trails, respect the environment and be aware of changing conditions.
Après-ski with everyone else
You don't have to ski to enjoy "après-ski". Meet up with the rest of your group in a local bar and share stories from your day over a beer. Le Mouton Noir in Verbier is legendary for its alpine parties that can be heard across the mountains, with DJs, live music and dancers/entertainers putting on a show. It may be located on the side of the piste, but is easily accessed from the top of the Medran lift station. Or head to the local outdoor ice rink at the sports centre for a fun evening set beneath the snow-clad Alps. Alternatively, grab a sled and head to the sledging track for 711m of pure speed, and as this is the only sledging area in Verbier it can get quite busy.
Drive a dog sled or relax in a sleigh
Whether in a sedate sleigh drawn by horses or a faster one pulled by huskies, there is an excursion choice to suit all levels of adrenaline. Horse-drawn sleighs go from Sonalon to Marlenaz, and it's possible to arrange a champagne picnic in a remote spot furnished with rugs and throws if you so wish. The husky rides are from 45mins, half-day or even full-day with a raclette lunch stop if you're fit enough and really want to experience a day as a musher. Booking in advance is recommended as this is a very popular activity.
Book a tandem flight
Take to the skies for a bird's eye view of the mountains with a tandem paragliding flight, or book yourself helicopter tour. It would take you weeks to see as much from the ground as you can in one flight, and some companies can even organise a fine-dining lunch experience atop one of the Glaciers, complete with lavish fur rugs, seats built into the snow, champagne, and the best gourmet food.
Snowshoeing and ski-touring
You can really get away from it all and disappear into nature on some snowshoes (raquettes). Book a snowshoe excursion with an activity company to see a side of the mountains that most skiers will never see. Full-day, half-day and night-time options are available to take you into the heart of the mountains – from the highest peaks to the wildest valleys. Equipment and transport are usually included, check when you book.
If you've decided the days of skiing up the mountain all-day, every-day, are well behind you, those with previous skiing / snowboarding experience could try ski touring. Hire a guide and pull on some skins for an adventure away from the madding crowd. Or if you're experienced, there are marked ski touring routes to follow. It's a great way to work up a sweat, earning your burger whilst the rest of the world takes the lifts.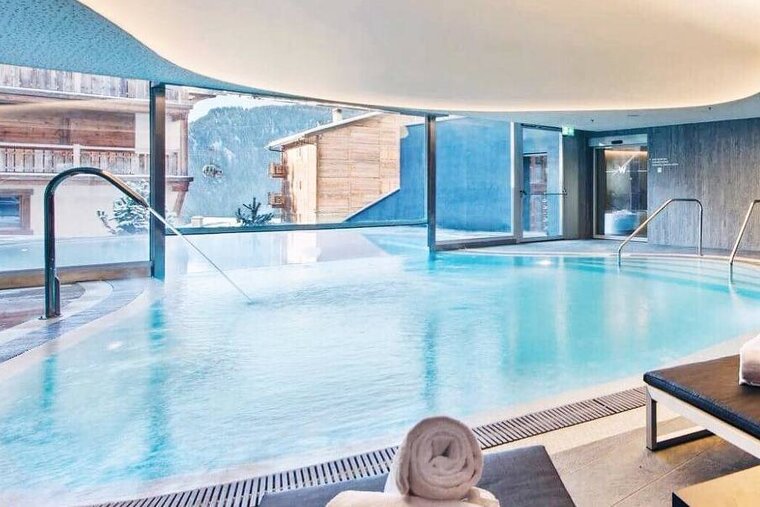 Not just a ski resort
Verbier is so much more than a ski resort. In fact, you can really have a great time here without setting foot on a lift.
Go for a swim
The Verbier sports centre is home to a swimming pool, spa, indoor climbing wall, fitness classes and a whole host more. Guaranteed to have something to keep you entertained if swimming doesn't tickle your fancy, perhaps a quick work out in the gym or some chill time in the spa. So don't forget to pack your gym kit and a swimsuit (speedo-style only boys).
Book a treatment at the spa
Or if all of that sounds far too active and you really just want to pamper yourself and read your book, or stare at the view, there are numerous spas and treatment rooms you can enjoy. Many hotels have exclusive lavish luxury spas which are open to non-guests for a fee, and mobile massage companies will arrange to visit you at your chalet or apartment.
Book a table
And when you feel hungry, enjoy some slap up Swiss cuisine with a glass of fine local wine - you deserve it. Many local restaurants have well priced lunchtime set menus offering the same cuisine as their main menus, but often with considerable discounts. Some offer wine tasting sessions also.
Visit a museum or go see a film
If you want to know more about the customs and habits of the region head to the Alpine Museum. Or drop into the local cinema, grab a box of popcorn and catch up on the latest releases - look for VOST or VO (version originale) for English language films.
Skiing, but not skiing
Nordic skiing
Still looking for something to occupy your time? There's always cross-country skiing to try. An extremely popular mountain sport that's also known as 'ski de fond', in Verbier there are 22km cross-country well-maintained tracks, some are free to use and some you'll need a pass to access. You can hire equipment and arrange lessons locally, and the views are to die for!
More inspiration...
As you can see there is more than enough to keep you occupied here during a no-ski skiing holiday. So unpack all those books you planned on reading, you simply won't have time.