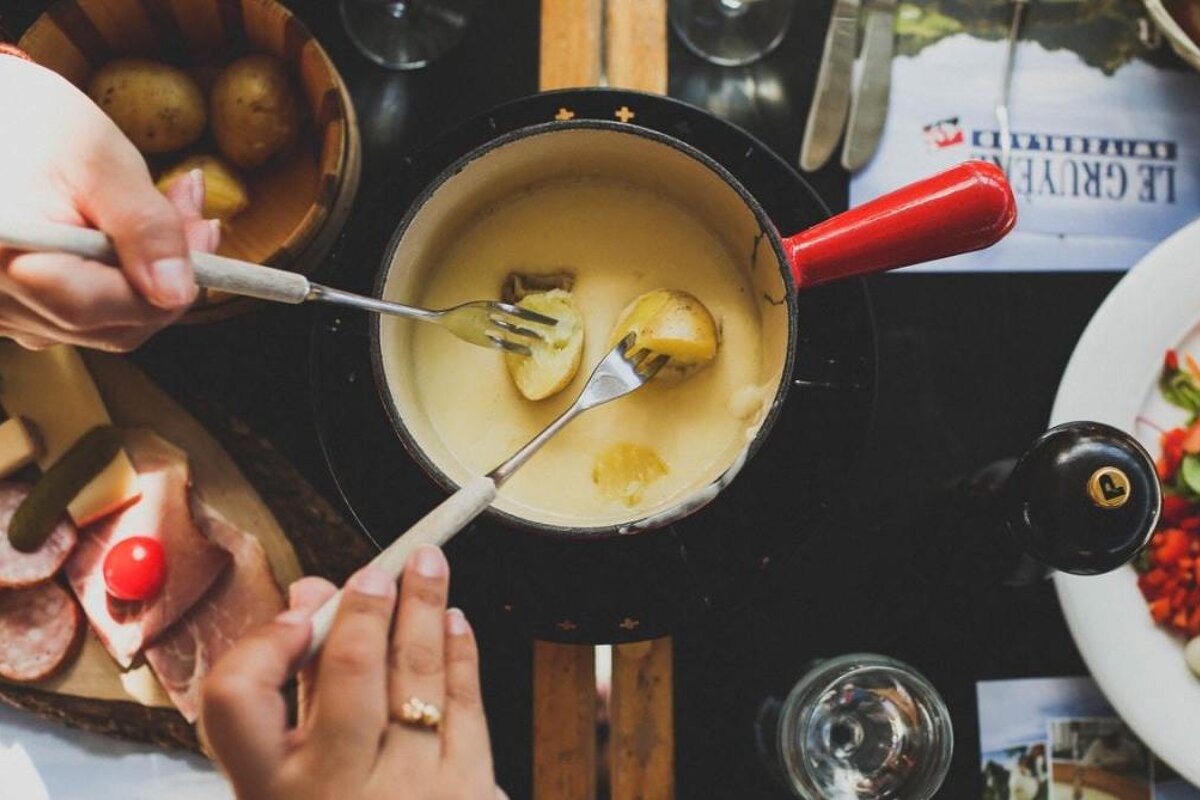 Best fondue in Verbier
There's more to it than just melted cheese and bread
Classic alpine food, eaten high up in the mountains with panoramic views of the towering peaks of the Val de Bagnes just can't be beaten. Verbier has a rich gastronomy scene that spans several different cuisines, but arguably its finest is the food the region has been producing for centuries.
Fondue is at the heart of the Swiss food culture, and no trip to Verbier is complete without sampling some of the amazing local ingredients that go into this classic comfort food. Here's our pick of the best places both on the mountain and in the town to indulge in cheese heaven.
Chez Dany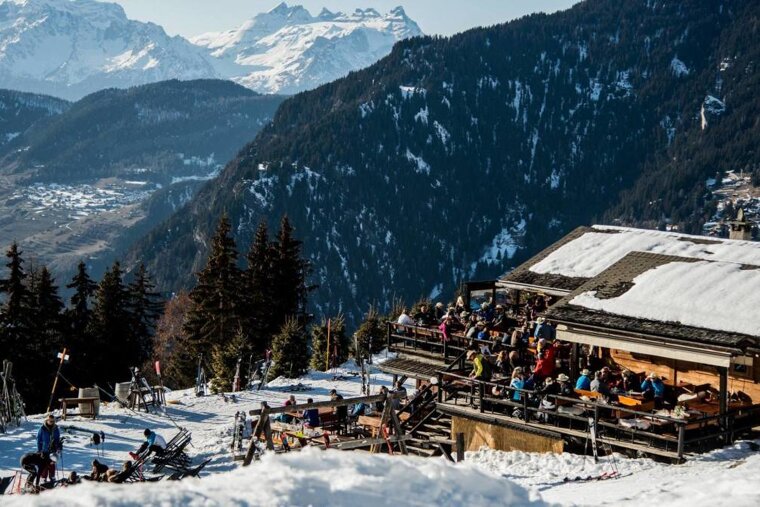 Chez Dany is set in what must be one of the most beautiful restaurant locations in the alps, if not Europe. Nestled amongst the trees in the forest of Clambin and accessible only by skiing a long winding track, or hiking from Verbier, the restaurant oozes alpine charm. The restaurant serves a wide selection of beautifully presented dishes, with their fondues being renowned around town as some of the best. Chez Dany also benefits from its south facing position, meaning it gets drenched in sun for almost the whole day. The deck chairs outside are the perfect place to soak up some rays and relax while you enjoy a drink or wait for a table.
Once the lifts close, you'd expect Chez Dany to close given its remote location. However, the experience gets even better. From town you can get the snowtaxi, a transformed Cat-Skiing machine, which will drop you off right outside Chez Dany. Most people also hire toboggans and head torches from one of the local rental shops and then sledge back down into town after their meal. This makes Chez Dany hugely popular with families and groups seeking something unique out of their holiday.
Marlenaz
Marlenaz is another remote mountain-side restaurant, similarly accessible like Chez Dany by snow taxi at night, or ski-tour/hike during the day. Situated at 1895 metres and overlooking the town, their menu is filled with all the wonderful classic Swiss dishes you'd hope for, with excellent meat and cheese fondue as well as rösti and their speciality, garlic butter l'escargots. This is one of the most untouched areas in the whole resort, and when the snow off-piste is good, dropping off the backside of Savoleyres provides an awesome ride right up to Marlenaz' back door. How better to reward yourself than a cold beer and cheese fondue?
La Marmotte
In addition to an incredible view, La Marmotte has some of the friendliest service in town. The restaurant interior can't get any more authentic, with a gorgeous open stone fire creating a warm and cosy atmosphere. They pride themselves on using the finest local cheeses in their recipes, so inevitably the fondue here is delicious, and for 30.CHF each including a selection of cured meats, it represents good value too.
Caveau
Le Caveau is exactly what the name suggests, a snug, antique, family run restaurant like something of Hobbiton. This is one of the most popular places in town to head for fondue or raclette, due in part to the charismatic waiting staff. It's central location in Place Central makes it easily accessible and given that it's been running for over 30 years, Caveau is unlikely to disappoint. Our favourite choice from their menu has to be the truffle fondue, which gives an even more indulgent spin on such a classic dish.
Cabane de Mont-Fort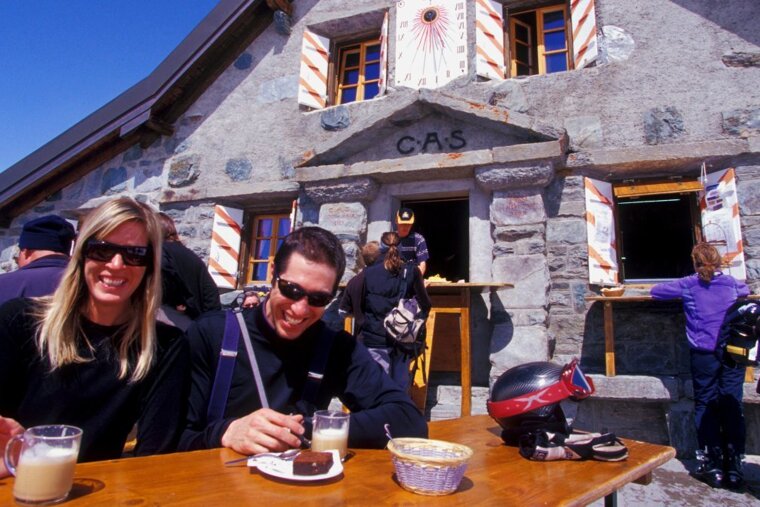 If you're after one of the most breathtakingly located restaurants in Verbier, then you have to visit Cabane de Mont-Fort. Nestled on a ridge half way down the valley below Mont Fort, the Cabane is dwarfed by the mighty spines and couloirs of the Bec des Rosses. At 2457m above sea level, it's one of the highest restaurants in the 4 Vallees, and serves as a place for so many skiers seeking refuge from sudden blizzards and bitterly cold weather. It's on almost every series of Verbier postcards going, and you'll absolutely understand why when you see it first hand. This unique restaurant showcases the Swiss Alps in all its glory. The food is hearty, authentic, Swiss cuisine, and you can guarantee you'll leave replete should you come to the Cabane.
Le Carrefour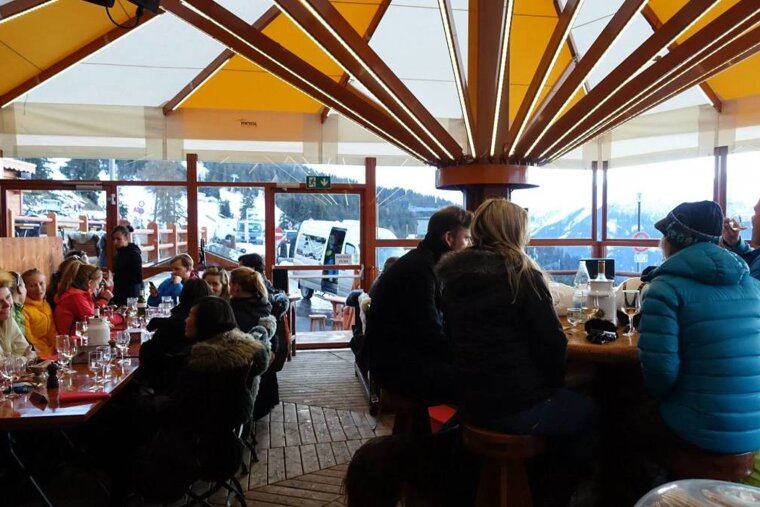 Another hugely popular restaurant at the top end of town above the Le Rouge button lift, Le Carrefour offers a menu laden with several mountain specialties, cheese fondues, Rösti and high quality meats served on a hot stone. Their wine list is one of the best in resort, serving local Valais, French, Italian, and Spanish wines. It can be easily accessed by the Carrefour bus, which stops right outside the front door, or by the easy Le Rouge blue run which bends to the right after the Les Attelas chairlift. Booking in advance is highly recommended if you're wanting to dine here in the evening, as it's swiftly becoming one of the trendiest and most sought after places to eat in Verbier.
For a full list of places to dine check out our restaurant listings. Unfortunately, you probably shouldn't have fondue every day of your holiday.
Location
Verbier - Centre, Verbier