About Verbier & the Four Valleys Ski Area
Verbier and the Four Valleys is the biggest ski area in Switzerland, with 410km of linked pistes accessed by 93 ski lifts. The ski terrain starts at 1,250m and tops out at 3,330m at the summit of Mont Fort.
The main things to know about the Verbier ski area are:
Easily accessible
Located just two hours from Geneva international airport, keeping transfer times to a minimum.
Part of the Four Valleys
Ranges from 821m in La Châble up to 3,330m at the summit of Mont Fort, the connections with the Four Valleys are seamless, offering a whopping 410km of marked runs.
Something for everyone
Sunny open pistes that are perfect for beginners, intermediates will love the village and Mont Gelé, and the powder hounds and advanced skiers will love what they find here.
Watch this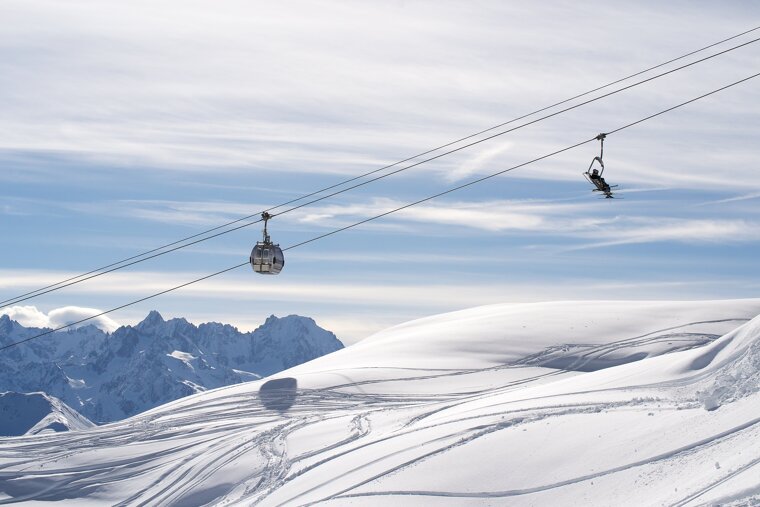 Verbier ski area
Located in the French speaking western part of canton Valais, southwest Switzerland, Verbier is 170km from Geneva international airport, and is a one-hour drive from Chamonix and Aosta.
The whole area has 35 blue pistes, 39 red pistes, 14 black pistes, a snowpark, a handful of cross-country ski and winter walking trails and an incredible array of off-piste opportunities. This enormous and varied terrain attracts winter holidaymakers from around the globe and offers something for every level of skier and snowboarder, from complete beginners to extreme freeride professionals and mountaineers.
What's it like to ski and snowboard in Verbier?
Verbier was once a simple village inhabited by cows and herdsmen, then after the Second World War a study by the Swiss government concluded it was an ideal spot for a ski resort, and in 1946 the first lift system was installed. The Médran cable car was inaugurated in 1950, beginning a lift building programme, however, it wasn't until the sixties and seventies that skiing really took off and it began to emerge as one of the leading ski resorts in the Alps.
A popular resort, not only for its great piste skiing and challenging off-piste, Verbier has a (well-deserved) reputation for aprés ski and nightlife. Loved by the rich and famous, this Swiss ski area has something for everyone.
The skiing in and around Verbier can be broken up into four areas, namely:
Verbier
Savoleyres/La Tzoumaz
Bruson
Mont Fort (although Mont Fort is not strictly part of Verbier, it is in fact the Four Valleys)
Verbier
Beginners and intermediates are well catered for by the sun-drenched area of La Chaux, the mellow pistes of the Lac des Vaux and the wide, cruising boulevards of the Attelas and the Combes. The resort boasts three nursery slopes/beginner areas and La Chaux is accessible from Médran via the La Chaux Express Combi-Mix lift. The Lac des Vaux area is perfect for intermediate skiers looking for easy runs, and thanks to its northern orientation, this little area is usually blessed with great snow conditions.
Those seeking long uninterrupted "boulevards" on which to cruise down need to look no further than the Attelas 2 and 3 and the Combe 1 and 2 pistes. These runs are serviced for the most part by state of the art lifts such as the Funispace, the Les Attelas (a six-man, high-speed detachable bubble chairlift) as well as the La Chaux Express (six-seater chairs and eight-man gondolas alternating on the same line) ensuring that lift queues are kept to a minimum even on the busiest days.
Add to that the Verbier snowpark and challenging ski itineraries of Chassoure-Tortin and Mont Gelé, and it becomes clear that the Verbier ski area has something for everyone (see the piste maps).
Savoleyres/La Tzoumaz
Savoleyres is south-facing and attracts lots of sunshine. It's popular with beginners and families who enjoy the nursery slopes and blue pistes in Les Esserts. There is some good tree skiing and a 5km winter hiking trail.
Savoleyres and La Tzoumaz meet on a ridge line, and two gondolas connect the areas with an additional six ski lifts giving access to a small mixture of blue and red pistes (see the piste maps).
Situated right behind Savoleyres' south-facing slopes, La Tzoumaz's north-facing pistes quickly plunge into the tree-line, offering a nice choice of red and blue runs. Home to one of the longest sled runs in the Swiss Alps, with 848m of height difference over 10km, the toboggan route follows the Petite Combe run from the top of the gondola, so don't be surprised to see some sledges whizz past as you ski down.
Le Nord chairlift services a short but sweet, moderately steep ridgeline speckled with trees, and Le Taillay chair gives access to mellow terrain which starts off very open and gradually enters the tree-line. Be careful however when skiing off-piste to the skier's right of Le Taillay, don't miss the cat track which brings you back to the lift. Les Etablons chair can offer some great turns when the snow is good lower down, and from the brand-new La Tzoumaz gondola, great "top to bottom" runs can be enjoyed.
Bruson
The Bruson ski area sits across the valley directly opposite Verbier, and the ski terrain varies from 1,080m to 2,445m offering 44km of pistes. Accessed by gondola from Le Châble, if you're staying in Verbier, getting here is a little time-consuming but well worth the effort. Head down on the gondola to Le Châble and take the Bruson lift directly up to the mid-station. From Médran the journey takes around 20 mins.
Comprised of five blues pistes, six red pistes, one black piste and 11km of cross-country tracks. It's a great place for beginners and intermediate skiers. There is just one marked black piste, namely La Pasay Noir which as two different starting options, both of which eventually fuse together lower down.
A great place for bad weather skiing as well as some fun off-piste, and given its low altitude 95% of its terrain is tree-lined, which means that even in white out conditions you can actually see something. This ski area can be also an off-piste haven, with the trees offering some great runs that don't get tracked out as quickly as the main Verbier ski area.
Mont Fort
The highest point in the Four Valleys at 3,330m, this sector offers, without a doubt, the largest array of easily reachable advanced/expert terrain of any ski resort in the Alps.
The area can either be accessed via La Chaux (2,260m) by loading onto the Jumbo, or via Tortin (2,050m) by taking the Col des Gentianes tram. The Col des Gentianes tram was upgraded to provide cabins similar to the Jumbo, meaning greater comfort and smaller queues. Both lifts converge at the same spot…the Col des Gentianes, at an altitude of 2,950m.
Those seeking the awe-inspiring panoramic views from the top of Mont Fort, as well as the challenging and often mogulled-out black run on its front face, can head up to its 3,330m summit via the Mont Fort 2 tram. From there, you can drop off the backside for some adrenaline packed descents (see our off-piste guide below) but it is not advisable to do so without the accompaniment of a certified mountain guide.
From the Col des Gentianes, there is also the possibility of skiing the Glaciers 2 red runs, but due to the glacier's heavy recession in recent years, this area necessitates lots of natural snowfall to operate, and therefore it's not always open.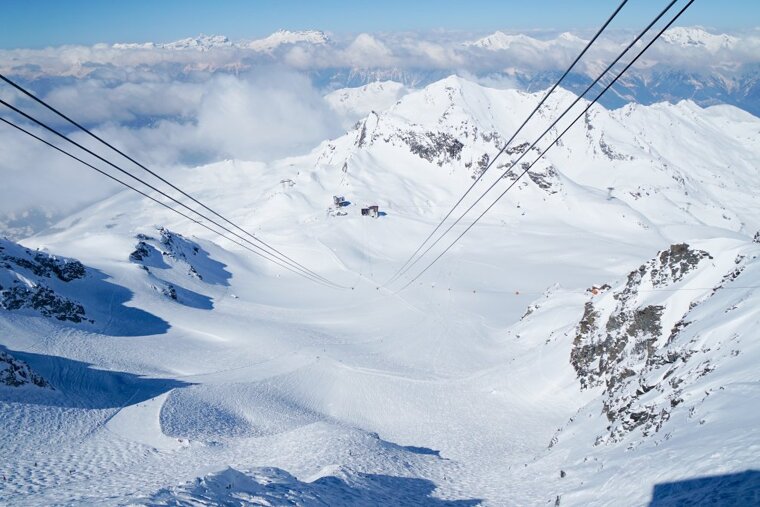 The Four Valleys ski area
Four Valleys
The rest of the Four Valleys, namely Nendaz (1,400m), Siviez (1,730m), Veysonnaz (1,400m), and Thyon (2,100m) together go by the name of "Printze". Spanning North to North-East from Tortin, the Printze area offers a great choice of blue and red runs, as well as a few blacks for the more intrepid.
The highest point in this sector is the Greppon Blanc (2,700m), under which you'll find a selection of red and black runs taking you either back to Siviez or traversing across the mountain to Thyon. Once in Thyon you'll find more blue pistes on the back side of the mountain, marking the farthest point in the Four Valleys ski area and you'll need to be competent in skiing red runs to get across here.
When is the ski area open in Verbier?
The winter season usually runs from mid-December to mid-April, with any early lift openings depending on snow conditions (check Ski Lift Opening Dates for this winter's schedule). Your holiday will be very much determined by the weather and snow conditions, and therefore the time of year you choose to visit is important. If it's sunny pistes and a cold glass of wine on a mountain restaurant terrace, come in March or April. If your perfect ski break is about quiet slopes and lots of fresh snow, then January is the time to come. Or if you want numerous activities organised for your children during their school holidays, February is for you.
Whenever you choose to come, as long as the lifts are open, the local pisteurs will make the best of the snow (real and/or artificial), and groom the pistes to perfection so that you get the best possible conditions.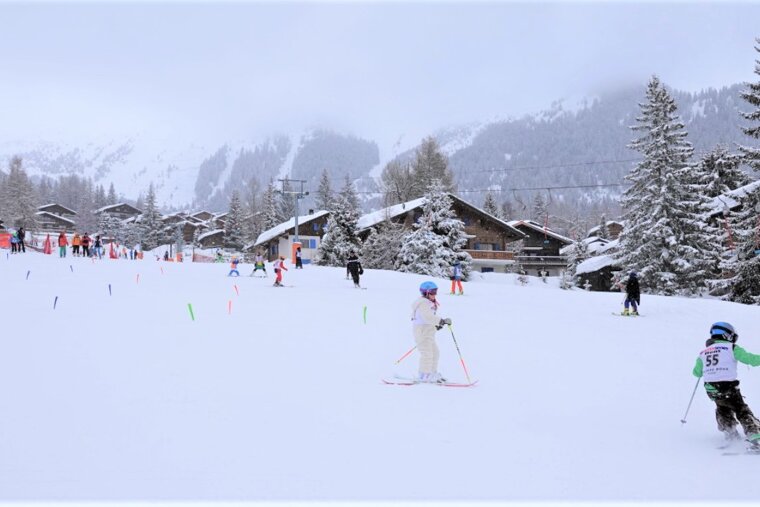 Beginner areas in [locality]
Verbier ski area is ideal for beginner skiers and those wishing to progress. There are three magic carpets - two in Verbier itself at Les Esserts and Les Moulins, and one in La Tzoumaz.
Les Esserts is a large beginner area and Les Moulins caters mostly for children.
The sun-drenched area of La Chaux is a firm favourite, it has a six-seater chairlift and is a great place to practise your technique as there are nice, easy runs which tend to soften up in the afternoon given the south-facing orientation. It is easily accessible either on your skis or using the modern lift system, take the bubble from Medran to Ruinettes, go up the escalator and then take the Chaux Express. Ride this to the top of Fontanet and back down the other side. Or stop off at the top - the view of the Combins massif is well worth the effort.
Savoleyres is quiet and can often be forgotten, but its blue runs are wide and friendly, just be sure to stay on the right path as a wrong turn could take you down a steep red run through the trees.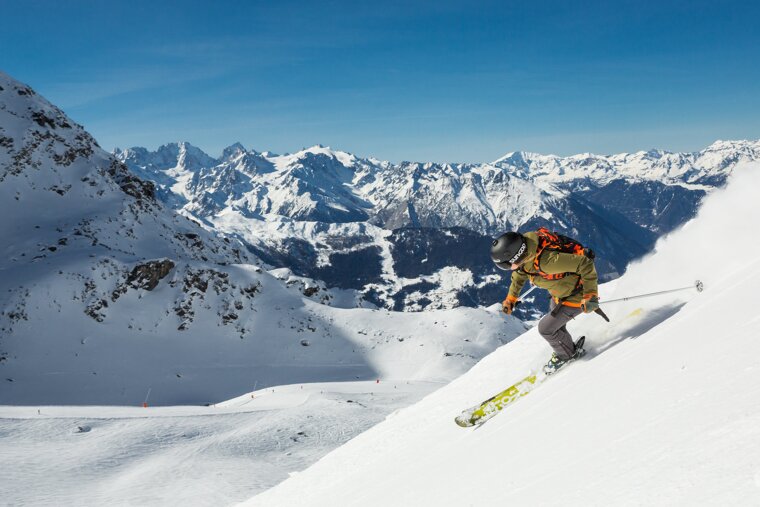 Advanced areas in [locality]
Skiers and boarders in search of steep, adrenaline packed descents will either want to head straight over to the Col de Chassoure to test their skills on the Chassoure-Tortin "wall" (a ski itinerary which takes you down a steep, often heavily moguled face) or, if the tram is running, head straight up to the peak of the imposing Mont Gelé, where, from its 3,023m summit, a multitude of ski itineraries will give even the most hardened experts a run for their money.
Chassoure-Tortin
Starting at the Col de Chassoure you either drop straight in and tackle the moguls, or traverse right and drop in wherever you like, just be careful - catching an edge here could result in an uncomfortable fall to the bottom. The bottom of the run funnels into a cat-track, which eventually drops you at the Chassoure gondola.
Mont Gelé
There are two official itineraries here. One takes you down the south face to La Chaux, the other takes you off the back ending up in Tortin.
Mont Fort
There is one black run over here, from the top of the Mont Fort 2 tram. It's steep and often mogulled, mellowing out near to the top of the Glaciers 1 and 2 draglifts.
Bruson
La Pasay Noir is a black run with two different starting points, both of which fuse eventually lower down.
The Four Valleys
The Printze area has four distinct black runs. In the Plan-du-Fou sector of Nendaz is Les Fontaines, the Greppon Blanc sector above Veysonnaz has Greppon 1, 2 and 3, and the steep, sustained pitch of the Étherolla run in Thyon is well worth the trip.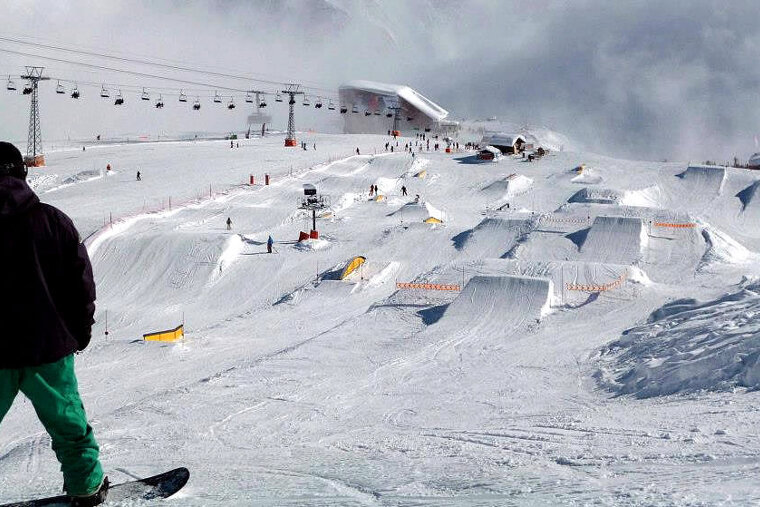 Snowparks in [locality]
La Chaux is home to the Verbier snowpark which has a multitude of kickers, boxes and rails designed for freestyle skiers and boarders of all abilities. Directly under the Chaux Express chairlift, the park sits in a natural, sunny bowl, and whether you're a beginner, advanced or pro level rider, you'll find your happiness here...there's even an airbag.
You can choose between two entry points and three lines, small, medium and large. Each route through the park features modules which may be modified according to the conditions.
The snowpark can be reached via the six-seater La Chaux Express and La Chaux 2 chairlift.
Close to the snowpark is the Audi Skicross, a 700m run for all abilities, you can navigate the long and short banked turns, and head over some large and small jumps before you reach the finish line.
Also at La Chaux is the mini kilometre sprint, which basically means you must ski down the run as fast as possible, challenging your friends for the fastest run of the day. It has been said that it's possible to reach speeds of up to 70km/h on this run!
The La Tzoumaz/Savoleyres sector is home to the Audi Quattro Funslope, an ideal place for children to learn freestyle. On the nearby Taillay slope you'll find a 10m long twister and a 15m long curved wall along with 23 other elements, including banked turns, jumps and a tunnel which cuts through the Funslope. Or if giant slalom is your thing, try testing your skills through the 15 gates of this approximately one-minute route that is accessible to all skiers, regardless of their level.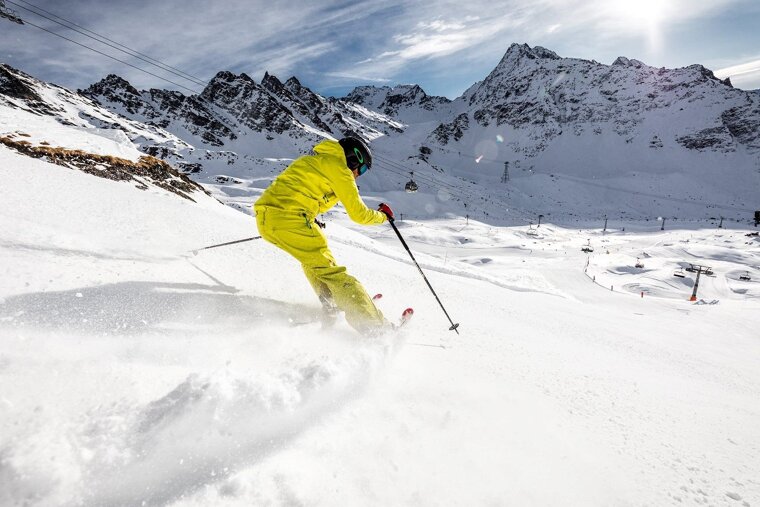 Best pistes in [locality]
Perfect for mixed ability groups and families, the Verbier ski area offers a range of pistes. With wide open runs, some steeper skiing and tree-lined pistes, you're sure to find your favourite piste this winter.
Off-piste areas in [locality]
When it comes to off-piste, Verbier is one of the most renowned resorts in the Alps. This is mainly due to the accessibility of numerous possibilities found over an extensive region. For more information on these itineraries visit our off-piste guide.
Verbier
Col de Mines - nice moderately steep gradient, best taken on when there's been recent snowfall as you might find it's rather bumpy if it hasn't snowed in a while. Drops you off at the Medran 1 cat track, a blue which will bring you to the Medran.
Col de Mouches - locals call this 'La Mouche'. Accessed by the Chassoure gondola it's a large open bowl of moderate, consistent gradient that eventually joins up with the bottom of the Gentianes-Tortin itinerary, and once on the flat section you're close to the Tortin lifts. In Spring beware of the 'melt-freeze' effect that takes place here and can leave an unpleasant crust on the whole bowl.
The Four Valleys and Mont Fort
'Backside' Mont Fort - probably the most awesome off-piste in the Four Valleys. The slope inclination is very steep, at times glaciated, terrain with avalanche potential and a relatively long walk out - only expert skiers and snowboarders with a good avalanche awareness need apply.
Gentianes – Tortin - probably the easiest off-piste to reach in the entire Four Valleys, this itinerary gets so much traffic it could be mistaken for a mogulled piste only days after a snowfall. Because of its northern exposure and higher altitude, the snow can hold quite well on the face.
Stairway to Heaven - Yet another classic itinerary for the off-piste enthusiast, and no trip to Verbier is complete without having carved some turns down "Stairways"…good cold winter powder can often be found right into the Spring on this north-facing slope.
La Tzoumaz and Savoleyres
La Marleinaz - An off-piste "classic" situated not far from the top of the Savoleyres lift station, easily reached with a 15 minute traverse…or an even quicker one from the top of La Tournelle chair. Due to its south-facing exposure, this is an itinerary which should only be attempted in the morning, before the snow has heated up.
Vallon d'Arbi - Reached from the summit of Les Attelas en route to the Col des Mines, we recommend hiring a guide for this itinerary because the access in whiteout conditions can be quite tricky, and the risk of avalanche is high given the moderately steep gradient of the slope. It is advisable to always carry your avalanche gear, and do not enter the area when it is closed.
Bruson
As far as the tree skiing is concerned, pretty much everywhere on the front face goes, with the bigger part of the skiing found in the area between the triple chair La Pasay and Le Grand Tsai. There are however a few flat spots and cliff zones to beware of and avoid.
La Pasay - The terrain, which is generally quite moderate, gets progressively steeper as you head away to the skier's right of the lift. Don't go too far right as there are some avalanche prone clearings and gullies amidst the trees there, not to mention that you'll miss the cat track bringing you back to the lifts, and have a very unpleasant time bush-whacking your way to the valley floor. This area is entirely off-piste and hazards do exist, so if you decide to head this way do so with caution and care, and go equipped. It's definitely best to go with someone who knows the area well, perhaps even a guide.
Le Grand Tsai - This drag lift is sometimes closed due to avalanche danger, but when open it offers longer front-side descents. During snowstorms, it can be bitterly cold and windy on these two lifts so make sure you come prepared with warm clothing.
Always make sure you are prepared before embarking on any off-piste skiing or snowboarding. Check out our Avalanche Safety guide. It's always advisable to hire an off-piste guide who will have extensive knowledge of the area and the mountains.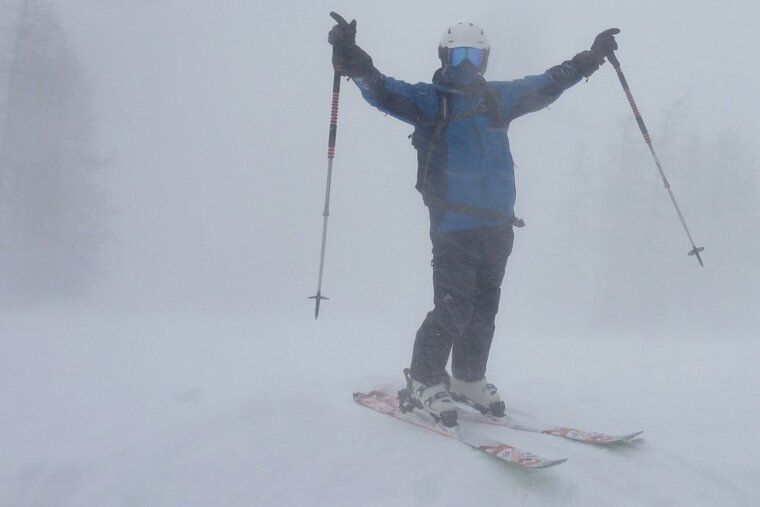 Bad Weather areas in [locality]
The high, open pistes lack the contrast required for orientation during whiteout conditions and slope and sky can blur into one. However there are certain runs that offer more contrast providing vast amounts of skiing/snowboarding when the flakes are falling.
Bruson
The local's "rendez-vous" in bad weather. Given its low altitude, 95% of its terrain is tree-lined which means that in foggy conditions or a white out, you can actually see something! Although there are only a handful of marked trails (blue, red and black) to choose from, Bruson offers the best tree skiing of the Four Valleys area.
Most of the good skiing is found off La Pasay and Le Grand Tsai.
More inspiration...
Take a look at this year's Ski Pass Prices or, if you're not sure which pass to buy.
Location